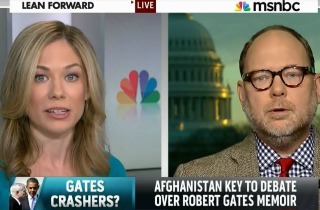 A debate on MSNBC over the revelations in former Defense Sec. Robert Gates' book between a Republican and Democratic operative exploded on Thursday over the legacy of the wars in Iraq and Afghanistan and the 9/11 attacks which prompted both. The question of whether national security was being politicized erupted into a debate over whether the president was on the winning side of that politicization.
Asked about Gates' allegation that the military was being denigrated and sidelined by President Barack Obama, Elise Jordan, a journalist and former National Security Council staffer under the Bush administration, said that the revelations that national security was being politicized was disconcerting.
"I don't know that it's news that Barack Obama was hesitant about a war," former Democratic United States Senate staffer Jimmy Williams replied.
"Yes, President Bush did take the counsel of his commanders on the ground, but he also showed a lot of leadership in choosing to go with the surge," Jordan countered.
"I have a problem with the idea that Barack Obama doesn't show leadership," Williams shot back. "If you don't think so, ask [Osama] bin Laden, but he's dead."
Jordan asked why, if the president was distrustful of the mission, he would commit another 30,000 troops to Afghanistan. "Because I think that he felt like he needed to do that to show it wouldn't work," Williams offered.
"I find that to be a completely unacceptable answer," Jordan replied. "Craven politics at its very worst."
"Look at the Bush White House putting us into those wars, and we can have a conversation about those 3,000 dead," Williams said.
"I'm sorry 9/11 happened," she added. Williams agreed.
Watch the clip below via MSNBC:
[Photo via screen grab]
— —
> >Follow Noah Rothman (@NoahCRothman) on Twitter
Have a tip we should know? tips@mediaite.com