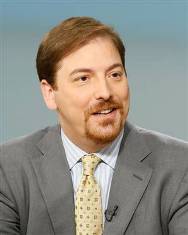 MSNBC is set to make some more daytime changes – just six months after it last shook up the line-up.
Chuck Todd and Savannah Guthrie – NBC News White House correspondents – will anchor at 9amET for an hour, while Dylan Ratigan moves to a self-titled show at 4pmET. It's a news-personality swap.
The 9amET show, The Daily Rundown, will "focus on the top political stories of the day, with reporting and analysis from Washington's strongest White House team," according to the press release. The Dylan Ratigan Show will "bring viewers information, analysis and viewpoints they won't see anywhere else," and serve as the new lead-in to Hardball with Chris Matthews.
It was in late June that the last major daytime changes came to MSNBC – when Ratigan started anchoring Morning Meeting for two hours after Morning Joe, Carlos Watson anchored at 11amET, Dr. Nancy Snyderman took over at NoonET and David Shuster and Tamron Hall anchored two hours of news at 3pmET. In September, Watson lost his hour, and now more major changes are coming. (The release says Shuster and Hall will "remain anchors with MSNBC dayside.")
This comes on the heels of November ratings, when MSNBC daytime shows like Ratigan's and Snyderman's finished in fifth place, behind sister-business network CNBC, in the A25-54 demographic. And as they often happen at MSNBC, a change came quickly.
What the move does show is a shift in strategy during daytime. Ratigan's program was a mix of advocacy journalism and topical debate, while Shuster and Hall anchored a hard news, objective program (in theory – some would disagree). This new line-up reverses that, putting a hard news program anchored by NBC News White House correspondents directly after Morning Joe, while 4pmET now allows for a potentially smoother transition to Matthews and the rest of the opinion line-up for MSNBC in the evenings.
Will the strategy work? A lot depends on Todd, who was on the short list to anchor Meet the Press last year and certainly has his hands full now at the White House. "I've been in TV all of 2 1/2 years," Todd told Howard Kurtz in a Washington Post write-up today. "Every day's a learning curve." As we've seen at MSNBC, though, the learning curve is on an accelerated timeline.
—–
» Follow Steve Krakauer on Twitter
Have a tip we should know? tips@mediaite.com