MSNBC Shows Video Of A Spider-Man Actor Getting Hurt Seven Times In 40 Seconds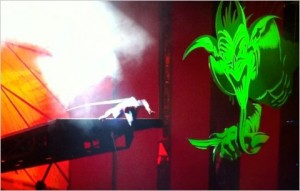 Anyone who's been following the development of Julie Taymor's Spider-Man musical can tell you that The Media has taken the Green Goblin's place as the webslinger's most hated enemy (some might also suggest an exorbitant budget and an incomprehensible second act). It seems like, from the moment the show was first announced, news outlets have been sharpening their knives and waiting for it to fail. Nothing has shown this better than MSNBC's report on the show's latest disaster in which they showed video of actor Christopher Tierney's 20 to 30 foot fall a whopping seven times in 40 seconds.
The video first appeared in The New York Times' Arts Beat blog after a reader attending the performance (and rudely taping it it appears) sent it in. In it, you can see Tierney, portraying Spider-Man, dive after the actress playing Mary Jane when his cable snaps and he falls to the stage.
Obviously this footage is something people want to see and the stage lights are cut short before we see the impact. However, unlike that Hugh Jackman video from last week, we don't know the nature or severity of Tierney's injuries. He is currently listed as being in "serious condition" at Bellevue Hospital. So, even though the idea of a $65 million musical about a superhero may get people's blood boiling, perhaps we could cool it with the repeated slow motion shots?
Check out MSNBC's coverage below. This is actually the second report on the fall. In the first one, a few minutes earlier, they also showed the video three times in a row.
Have a tip we should know? tips@mediaite.com