MSNBC Sloppily Edits Lawmaker To Attack GOP's 'Systematic' 'Demonization' Of The Poor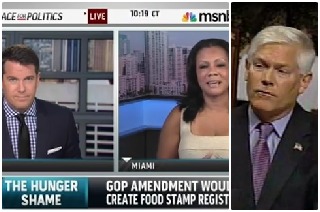 One wonders why, given the frequency with which Republican officeholders and party officials say stupid and/or inappropriate things, anybody would need to egregiously misrepresent the comments of a GOP lawmaker in order to make a point. This is, however, what happened during a MSNBC segment on Thursday discussing proposed changes to the Supplemental Nutritional Assistance Program. In order to frame Republicans in Congress as engaging in a "systemic or institutionalized demonization of our nation's poor" during MSNBC's dayside straight news programming, one GOP representative's comments were so badly misrepresented thorough selective editing that it is impossible to presume that the effort to mislead was not intentional.

Making a cartoonish point about how the Republican Party seeks to force the nation's impoverished to live in a Dickensian hellscape, MSNBC anchor Thomas Roberts played a series of snippets of Rep. Pete Sessions (R-TX) speaking on the House floor on Wednesday:
"What we're trying to accomplish is to end eligibility of food stamps that compete against those families, those needy families that we talked about, for rapists, pedophiles, and murderers." … "Whether rapists, pedophiles, and murderers will be eligible." … "but it's pedophiles, murderers, rapists – those who should have enough money."
"I think it is a systemic or institutionalized demonization of our nation's poor," MSNBC contributor Goldie Taylor reacted. "To say that people who are poor also happen to be disproportionately rapists or murderers, well that simply isn't the case."
In his floor speech on Wednesday, Sessions praised both Democratic and Republican lawmakers and former presidents for recognizing the necessity of reforming welfare. It was in this context that Sessions said that SNAP must be reformed to limit access for both convicted criminals and the wealthy that do not need the program.
Here is the full context of Session's statement on reforming SNAP eligibility:
We've come today with bipartisan legislation from two stalwarts — men who served this great nation in the agriculture committee for years of service — bringing them together with the best ideas to try and formulate a policy. Today, there will be examples of people who can control the destiny of these ideas. One is about trying to take off rapists, pedophiles, and murderers. Another that says we are not going to allow those that have won the lottery to be able to continue to receive food stamps. That's how this bipartisan bill is being crafted and worked together.
Why one would equate "rapists, pedophiles, and murderers" with the impoverished is an odd logical leap. The only person who made this equivalency is Taylor. One can be sure, if a Republican had made that explicit link between poor people and violent felons, they would find themselves squarely – and rightly — in MSNBC's crosshairs.
Earlier Sessions went so far as to attempt to immunize his comments from the lamentably predictable spin that he was probably sure would follow his advocacy for reform. Session said, in clear and plain terms, that his caucus is in no way trying to vilify the needy that currently benefit from the SNAP program.
"I can certify that at no time during this process have we vilified any poor people. We're here to help them," Sessions said, perhaps struck by a moment of clairvoyance in which he predicted MSNBC's next-day reaction. "We're the ones that are making sure that we're trying to take pedophiles and rapists and murderers off the roles of government — rolls of government assistance so it would serve those who need it the most."
Now, you can argue whether it is just for convicted felons to be eligible to receive federal benefits. Personally, it strikes me as a morally questionable policy to attempt, once a convicted felon has served his or her time in prison, to punish them further by restricting their access to federal programs.
But what is clear is that Sessions was not attempting to "demonize" the poor when in the next breath he mentions the exorbitantly wealthy. Further, his effort to preemptively defend his comments is a rather striking indictment of the blatant attempts by some media outlets mischaracterize the statements made by Republicans. Sessions could see it coming a mile away.
It's fine to be biased – we all have our firmly held convictions – but it is critical for purveyors of information to be honest. This segment was a lot of things, but it was not honest.
> >Follow Noah Rothman (@NoahCRothman) on Twitter
Have a tip we should know? tips@mediaite.com