MSNBC Sneakily Schedules Live Trump Event to Air Opposite CNN's Town Hall Wednesday Night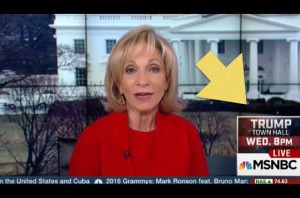 When no one was looking, MSNBC seems to have quickly scheduled Donald Trump to appear live for a Town Hall event Wednesday night at 8 p.m. moderated by Morning Joe's Mika Brzezinski and Joe Scarborough. The move comes just a week after Scarborough found himself in a social media brouhaha with a CNN reporter over claims that the host's relationship with Trump may have been too cozy for objectivity.
While Trump sits with Brzezinski and Scarborough at 8 p.m., Marco Rubio, Ben Carson, and Ted Cruz will sit for part one of CNN's Town Hall hosted by Anderson Cooper. The remaining Republican candidates for President — Trump, Jeb Bush, and John Kasich — are scheduled to appear Thursday night at 8 p.m., also with Cooper on CNN from South Carolina. In his Sunday column, my colleague Joe Concha praised the move by CNN, writing, "By holding two more town halls this week, CNN creates something for nothing and will likely win both nights on the ratings front in the demo."
But now, Scarborough — who blasted CNN's Dylan Byers last week with hits like, "I understand you guys resent that we double your audience every day, but enough of the lying" — and MSNBC have seemingly figured a way to jeopardize CNN's opening Town Hall figure: schedule against it the biggest name in the political media circus, off of a controversy so freshly brewed you'd have thought it came from a Morning Joe Starbucks ad.
After CNN's Byers indicated on Twitter that Brzezinski and Scarborough, "hung out in Trump's hotel room… during primary returns," perhaps the MSNBC duo have a platform to demonstrate their signature off-the-cuff toughness to expel notions of a Trump-Morning Joe connection (headlines last week went as far as to place Scarborough and his family at Trump's Mar-A-Lago in Florida, implying tacit support for the candidate).
The information about the Town Hall unexpectedly appeared in the bottom right graphic on Tuesday, and anchor Andrea Mitchell confirmed that her colleagues had in fact scheduled the event with the GOP frontrunner:
Although MSNBC has not aired nearly as many primetime Presidential events as their CNN and Fox counterparts, the few the Peacock landed have been very well-regarded. Rachel Maddow moderated a Town Hall back in the Clinton-Sanders-O'Malley era of the race that was direct and engaging. She later moderated the Sanders v. Clinton debate expertly alongside Chuck Todd two weeks ago, although ratings have continued to dog the network compared to its rivals.
What was seen initially as an undisputed ratings win for CNN's Wednesday night has suddenly been challenged by the same freak of media strength it hopes to benefit from on Thursday. The networks are far beyond admitting that a Trump-Trump-Trump Train is driving the engine this year, and quite frankly, everyone is thankful that so far the circus has been worth the price of admission. Joe Scarborough knows it, and may have just stolen a win out of CNN's column as a result.
Watch the above video from MSNBC.
[image via screengrab]
—
J.D. Durkin is the Senior Editor of Mediaite.
This is an opinion piece. The views expressed in this article are those of just the author.