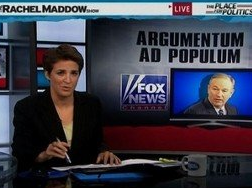 MSNBC hosts talk a lot about Fox News on the air. Off camera, MSNBC's PR folks would really rather talk about CNN–as in, "MSNBC Beats CNN for the Second Year in a Row."
When it comes to MSNBC's year-end ratings news release, it's all about poor pathetic CNN, and there's absolutely no mention of cable news ratings powerhouse Fox. Fox News, you say? Hmmm…not ringing a bell, have to check the records. Did I mention we crushed CNN, just crushed them?

And they did. For the second year in a row, MSNBC beat CNN in terms of viewers 25-54 (the key demographic for advertisers), and for the first time ever, MSNBC also beat CNN in terms of total viewers. That network that shall not be named, Fox News, won both categories by the way–and by quite a lot. That's not, of course, to take away from MSNBC's victory–a truly significant win worth bragging about.
MSNBC does mention how Morning Joe had its best year ever, and CNN's struggling and soon-to-be-revamped American Morning had its lousiest year since 2000. But MSNBC makes no mention, of course, of Fox & Friends, which not only beat all its cable competitors, but was even chosen by media buyers as the second best morning show for advertisers, right after TODAY.
Another interesting omission is this: So far, for year to date, CNN's American Morning actually beat MSNBC's Morning Joe in viewers 25-54 for the entire year. And over on CNN's sister channel HLN, red-hot Morning Express beat them both.
MSNBC couldn't resist taking a few digs at its flatlining competitor, noting the viewership declines for Parker Spitzer and just-retired Larry King:
"Countdown with Keith Olbermann" ends 2010 with a huge lead over CNN, rating #2 for the 4th consecutive year with total viewers (1.038 million vs. 527,000) and A25-54 (269,000 vs. 149,000). With the end of "Campbell Brown" and the start of "Parker Spitzer," CNN hit all-time lows in the hour with both adults and total viewers.

In 2010, "The Rachel Maddow Show" ranked #2 at 9 p.m. beating CNN's "Larry King Live" for the full year the first time ever among A25-54 (256,000 vs. 177,000) and total viewers (954,000 vs. 676,000). 2010 was the lowest rated year ever for "Larry King Live."
The only thing more amusing than MSNBC's complete Fox amnesia is CNN's only spin on the year: finding a little-used and widely-considered-useless metric that allowed them to write this technically correct but hugely misleading headline: "CNN Reaches 10 Million More Viewers Than Fox News and 13 Million More Than MSNBC in 2010."
Have a tip we should know? tips@mediaite.com