MSNBC Touting Black Audience Numbers Again Illustrates Network's Obsession with Race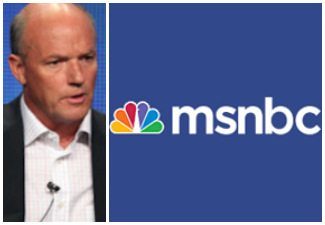 One of the most unintentionally-entertaining parts of covering the cable news business is seeing to what lengths an executive will go to spin the numbers at the end of a given quarter or year. In the case of MSNBC — which had what one would generously call a challenging 2014 —network President Phil Griffin certainly took the spin to a whole new level.
Before we continue, please note: The internal memo Mediaite obtained written to MSNBC by Mr. Griffin was exactly what one would expect from someone in his position: Ratings are way down in a year (Ferguson, midterm, Ebola) they should have held steady or gone up. Per Stephen Battaglio's column in today's L.A. Times:
"Through December 21, MSNBC averaged 169,000 prime-time viewers in the category, down 17% from 2013 and its worst performance since 2005. Fox News is averaging 302,000 for the year in the demographic, a 3% increase, while CNN is down 1% with 181,000. MSNBC is a distant second behind Fox News in overall viewers, but it's down in that category as well."
So Griffin's approach — to find and tout highlights wherever they may exist no matter how irrelevant from a revenue perspective — is the right one as he tries to put Humpty Dumpty back together instead of dwelling on the negatives. That begins with rallying the troops and hitting the reset button after the ball drops on Wednesday night.
Speaking of New Year's Eve and going off on a tangent for a moment, why exactly doesn't MSNBC do a New Year's Eve Special like CNN (which gets some of its best ratings of the year via the Anderson Cooper/Kathy Griffin pairing) and Fox News (which does pretty well in its own right). MSNBC has enough horses in the barn to make this work, so here's my starting five for MSNBC-Eve: Rachel Maddow, Willie Geist, Tamron Hall, Abby Huntsman, Thomas Roberts. Get your stars out there free of politics and debate, and humanize them a bit more to your audience. It's not like you have to travel far (about one block) to get to Times Square.
See, it's really that easy. Now back to our regular column…
One of the numbers highlighted in the Griffin memo focused on MSNBC beating CNN in total audience for the fifth consecutive year. That's all well and good, except to those who employ Griffin (Comcast), the only number that matters exists in the key 25-54 demo, which advertisers base their entire purchases on. Fox's audience may skew older, but they still dominate that younger demo, finishing first overall in cable prime in the third quarter of this year…even beating ESPN, TNT and USA Network. CNN lacks large total audience numbers, yes, but does relatively well in said demo, earning the silver media comfortably over MSNBC.
And that's just one example of Griffin reaching here to find any bit of good news he can, even if it means nothing to the network's bottom line. In the same memo, Griffin conveniently discovers the 25-54 demo, as he notes the network won the race for most Hispanic viewers in cable news in that category. But in the same vein of checking off boxes, the network president boasts, "Our African-American audience is double that of CNN's and more than seven times that of Fox News."
And spiking of the ball on that point sums up much of MSNBC's problem: Always seeing the world through the prism of race. Remember, this is the home of dog whistles, where the words "golf", "Chicago", "lazy" and "IRS" are all deemed racist. So while we're at it, perhaps some metrics around how many Irish or Italians or Asians or Persians are watching are in order as well.
Does ABC note in its press releases how many blacks watch Modern Family? Does HBO report how many blacks watch Girls? Nielsen tracks these numbers, yes, but does any other network even report these kind of numbers? Why does everything — even Nielsen ratings — have to be broken down along racial lines? Unless, of course, a distraction from a bigger issue that can't be spun is needed.
Overall, despite Griffin's optimism, the network will unfortunately continue to tumble in 2015. Why? For starters, there's no election this year for the self-described place for politics, and look how poorly the network performed in 2014 during an actual election year. The speculation over 2016 won't be much help, as most viewers — the kind of politically casual ones that help move the needle — won't be truly engaged until 2016. And as we've seen, Hillary Clinton — who will get major love at MSNBC over the next 22 months — isn't a compelling figure who sells very many books, nor rates very well on television (mainly because since she's been in the public eye for well over two decades, there's isn't anything necessarily new and exciting about her story which hasn't already been told). If Hillary is thought as MSNBC's savior in the same way an electric Barack Obama was '08, the cable arm at 30 Rock is in deeper trouble than it knows.
In the meantime, MSNBC needs to find its next Maddow in primetime the way Fox made a big bet on Megyn Kelly that has paid off beyond expectations a little over a year ago. Sticking with the same squad and strategy in 2015 is the very definition of insanity of doing the same thing over again and expecting a different result.
Optimism is nice. An actual plan is better. In Phil Griffin's case, all the spin in the world won't change the fact he doesn't appear to have one.
>>Follow Joe Concha on Twitter @JoeConchaTV
This is an opinion piece. The views expressed in this article are those of just the author.