MSNBCers Call Rand Paul 'Crazy' for Invoking Clinton… Hours After Chuck Todd Reamed Clinton Impeacher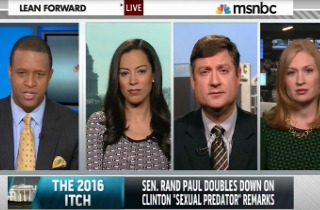 MSNBC host Chuck Todd spent Friday morning attacking former Rep. Bob Barr (R-GA), a Republican who led the successful charge to impeach former President Bill Clinton for lying under oath, for being "partly responsible for this atmosphere of polarization that we have today." Todd insisted that Barr and his fellow Republicans "divided the country" over Clinton's impeachment and ushered in an era of uncooperativeness in Washington that has lasted "a couple of decades."

Hours later, MSNBC anchor Craig Melvin and a series of contributors attacked Sen. Rand Paul (R-KY) for bringing up Bill Clinton's sexual indiscretions. They attacked Paul for as talking "crazy," making "odd" assertions, and harping on a subject that was essentially old news.
Paul recently called former President Clinton a "sexual predator," and said that any donations he raises for Democratic candidates are suspect and should be returned.
"It would seem to be an odd strategy," MSNBC anchor Craig Melvin observed, "to go after Bill Clinton and, by extension, of course, Hillary Clinton."
"It's interesting he would bring up an issue that happened decades ago and just hope that he can take his focus on something else, particularly if he wants to have a future in 2016," Democratic strategist Angela Rye agreed.
Yeah, that is strange. Strange, indeed.
RELATED: Sen. Rand Paul: Bill Clinton Is a 'Repetitive' 'Sexual Predator'
There certainly is some merit to the critique of Paul's attacks on Clinton as being politically imprudent. While having the dubious distinction of being only the second American president to be impeached by Congress, Clinton remains one of America's the most popular living political figures.
That having been said, the schizophrenia on MSNBC this morning regarding Clinton's legacy is slightly more baffling than Paul's "odd" strategic effort to knock Bill Clinton down a peg.
"The country's moved on," GOP strategist Chip Saltsman said closing out this segment. If he had been watching Todd's interview with Barr, he would know that is not the case for everyone.
Watch the segment below via MSNBC:
[Photo via screen grab ]
— —
> >Follow Noah Rothman (@NoahCRothman) on Twitter
Have a tip we should know? tips@mediaite.com