MSNBC'ers Laugh Off 'One-Day Story' About Obama's Controversial Comments About California A.G.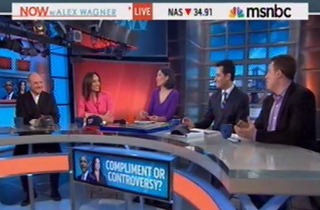 On Friday, the guests and host of MSNBC's Now laughed off what they considered the inconsequential story of President Barack Obama making objectifying comments about the attractiveness of California Attorney General Kamala Harris. While some feminist commentators aren't laughing, the MSNBC panel concluded that the president's offensive comment amounted to a "one-day story."

RELATED: Three Cheers For Feminist Bloggers Who Called Out Obama's Objectifying Comment About Female Politician
Amid a series of statements praising Harris during a closed-door California fundraiser, Obama noted that she is also "the best-looking attorney general." The comments have caused a stir among political commentators.
Alex Wagner defended Obama saying that he has also complimented male political figures for their looks.
Nia-Malika Henderson, a reporter for the Washington Post, opened the panel discussion by revealing that she was uncomfortable with the comments. However, she noted that many American attorneys general are, in fact, attractive.
BuzzFeed editor Ben Smith dismissed the controversy as well, saying that Obama and Harris are close friends. He conceded, however, that Obama can be "incredibly awkward at times." He commented that his organization had put together a post of attractive male attorneys general in the wake of Obama's comment.
"This is a one-day story," declared New York City Deputy Mayor Howard Wolfson. He added that Harris' star power within the Democratic Party is what should be the focus of this story.
Huffington Post reporter Sam Stein called the comments a "small issue." He said Obama probably regrets it but "it's such a minor story in the grand scheme of things."
"I do think objectifying Joe Biden in his swim trunks is a good thing for the national dialogue," Wagner closed.
Watch the segment below via MSNBC:
> >Follow Noah Rothman (@NoahCRothman) on Twitter
Have a tip we should know? tips@mediaite.com