Are Americans Really More Comfortable With Political Dynasties Like Bush, Clinton?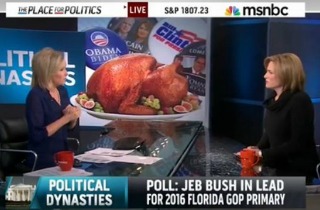 Live holiday political talk programming is one of the best times to hear your favorite analysts, consumed with thoughts of home and hearth, vamp purposelessly with the aim of simply getting to the other end of the segment. The following panel discussion was one of those perfect occasions. Without anything better to say, an MSNBC panel agreed that Americans are becoming "more comfortable" with political dynasties like those of the families Bush, Clinton and Carter. Why? Each family's record of competency, of course.

In a discussion about the potential 2016 presidential landscape and the potential for a dynastic contest that might again see America's heading to the polls to vote for either a Bush or a Clinton, GOP strategist Susan Del Percio said she believes that it is less likely that former Florida Gov. Jeb Bush would run for the White House than former Secretary of State Hillary Clinton.
"We are talking about the family dynasties," she said. "It's difficult for a Bush to run even eight years later for President of the United States."
Former Democratic National Committee Chair and Pennsylvania Gov. Ed Rendell expressed his dissatisfaction that Bush might not run because he would be an effective candidate and "good president."
He conceded that, while a Bush/Clinton race would represent two dynasties, it would also be a race between "two people who know how to lead."
MSNBC anchor Milissa Rehberger expressed her interest in the developing political career of Jeb Bush's son, George Prescott Bush, who is running for Texas Land Commissioner. Though she suggested he was running for comptroller.
"It's interesting," Del Percio agreed. "We have President [Jimmy] Carter's grandson running for congress." Jason Carter is actually seeking to follow in his grandfather's footsteps and is running for governor of the Peach State.
"A lot of dynasty building up," Del Percio concluded. "I guess people are more comfortable or maybe they're frustrated with the leadership they are seeing in Washington."
"Maybe having people who at least are used to getting something done in one shape or the other," she concluded. It's difficult to support the suggestion that the younger Bush or Carter are have leadership skills or have demonstrable track records at getting something done in office.
But they crossed the finish line, which is all that matters. Maybe cable news programmers should consider just a simulcast of the parade next Thanksgiving.
Watch the clip below via MSNBC:
[Photo via screen grab ]
— —
> >Follow Noah Rothman (@NoahCRothman) on Twitter
Have a tip we should know? tips@mediaite.com