MSNBC's Abby Huntsman Advises Josh Romney to Challenge Utah's Mike Lee in Primary… From the Left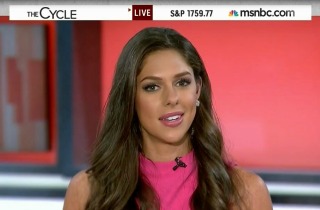 One fourth of MSNBC's The Cycle, self-identified moderate conservative political commentator Abby Huntsman, announced today that she is flirting with backing Romney for Senate. No, not Mitt Romney; the former Massachusetts governor's son, Josh Romney. Huntsman, the daughter of former Utah Gov. Jon Huntsman, urged Josh Romney to take on prominent Republican Utah Sen. Mike Lee in the 2016 Republican GOP caucuses. The MSNBC political commentator said there is a chance that the son of the former Republican presidential candidate can knock off Lee in a primary… in a state where voters chose the GOP candidate over President Barack Obama by 48 points… by running to the senator's left.

Huntsman began by noting that Lee was swept into national office after mounting a primary campaign of his own. In 2010, Lee challenged Sen. Bob Bennett (R-UT) and was able to defeat him in the state's GOP caucus convention (they do not hold primary elections in the Beehive State).
"The Huntsmans have been in Utah politics for a long time and none of us considered Bennett a liberal," she revealed, surprising none.
Huntsman said that Lee came to Congress and quickly became "one of the most polarizing political figures in country" who has tied his political future to that of Sen. Ted Cruz (R-TX).
Huntsman notes that Lee's approval rating in his home state has dropped precipitously – from 50 to 40 percent, according to an online poll from Brigham Young University. While she associates his collapse with Lee's conservatism, it's more likely that his association with one of the least popular institutions in the country centered directly in radioactive Washington D.C. has tainted the junior Utah senator's image some.
Huntsman made a slightly more compelling case, though, for Lee's political diminution when she reported that that Lee has lost the support of some of the GOP fundraising community. She noted that former Romney campaign finance chair Spencer Zwick is prepared to "work against" Lee.
"I've got some insider Utah politics for you," Huntsman continued. "I hear Mitt Romney's son, Josh Romney, has been looking for an opening to run for office in Utah. Challenging the not-so-popular Lee actually sounds like the perfect opportunity."
She adds that Utah's moderate 4th district Democratic Rep. Jim Matheson (the only member of the congressional delegation from the state with a "D" after his name) can also potentially challenge Lee… Presumably, she is now referring to a statewide general election and not a Republican primary. But, who knows?
"Utahns have gotten less than they bargained for with Senator Mike Lee," she concludes. "He wasn't the consensus choice. He was just a creature of the conservative movement."
She signs off by telling Lee directly that his impracticality and failure to represent his constituents "has likely already cost you your re-election in 2016."
This is a truly mind-blowing statement. Again, Utah voters turned out for Mitt Romney over Obama to the tune of 73 to 25 percent in 2012. This is a state where 60 percent of voters are registered Republicans — more than the number of registered independents (30 percent) and Democrats (9 percent) combined. To claim that Lee has not adequately represented his constituents is a declaration of faith, not political analysis.
Furthermore, protracted and competitive primaries, as a rule, weaken the candidate who eventually proceeds to the general election. While Utah primary caucus conventions are tantamount to general elections in a state as conservative as this, the eventual GOP nominee would be inevitably weakened if Huntsman's wish ever came to pass.
But that a Republican who professes to be a moderate at every given opportunity would support a moderate Republican over a conservative is not news. What is slightly newsworthy, however, that when most conservatives and Republicans with a modicum of concern for their party's political prospects are advising the GOP to quit the infighting, Huntsman is advocating for more of the same. That is quite telling indeed.
[Photo via screen grab ]
— —
> >Follow Noah Rothman (@NoahCRothman) on Twitter
Have a tip we should know? tips@mediaite.com