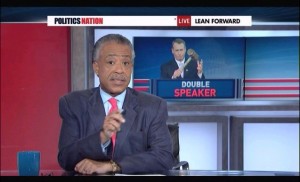 Newly-minted MSNBC host Al Sharpton updated viewers on the latest details from Speechgate 2011: The Incredible One-Day Saga Of A Minor Scheduling Issue, and wondered if "John Boehner [has] been the problem all along" in dealings between the White House and House Republicans, and not necessarily the tea party members of Congress.
Sharpton highlighted a POLITICO story from yesterday reporting that White House officials were "furious" with Boehner's demand that President Obama delay his jobs speech. He contrasted this response from the White House's attitude a few months ago, when they were trying to find common ground with Boehner and singling out tea partiers in Congress for their unwillingness to compromise. An anonymous White House official provided this quote:
"At first, I didn't think it was Boehner, but his caucus. But maybe not. Maybe it is him."
Ryan Grim, HuffPo's Washington bureau chief, thought "a blind quote sent to a Washington publication" was not enough pushback from the White House if they wanted to send a message to the Speaker, and found it odd that Republicans potentially opposed to the President's jobs plan would not even want to hear him out first.
Sharpton continued to flout the conventional wisdom that Boehner is a moderate Republican leader, pointing out that he pushed Paul Ryan's budget plan through the House and forced the chamber to cancel the initial vote on the debt ceiling bill.
"If you look at the track record of John Boehner, he really gives one persona, but the track record is much different than the persona."
Sharpton and Grim seemed to agree that the president shouldn't bother negotiating with Boehner, with Grim pointing out the president's seeming frustration with the strong anti-tax beliefs of almost the entire Republican party. Sharpton thought it would be nice if Congress could show more "bipartisanism," but it would be hard for the president to deal with "irrational" members of Congress.
Have a tip we should know? tips@mediaite.com
Josh Feldman - Senior Editor