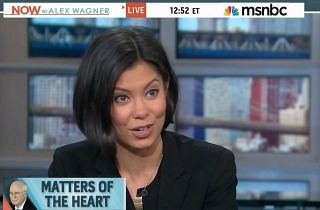 MSNBC host Alex Wagner discussed with her panel guests on Monday the revelations in former Vice President Dick Cheney's new book, Heart. She and her panel guests examined the psychology of both former President George W. Bush and Cheney and their complicated relationship. Wagner asserted that Bush chose Cheney for his vice president because he "was acknowledged to need a puppet master."

Wagner said that Cheney's book's release was poorly timed because it comes at a time when another book alleges that Cheney sought the invasion of Iraq for frivolous and personal reasons.
Talking Points Memo reporter Sahil Kapur said that, while he had not read the book, he believed that Cheney came into office with the intention of attempting to "revolutionize the vice presidency." He added that Cheney's foreign policy gravitas paid off in the 2000 election and in the immediate post-September 11 aftermath.
"That's why President Bush wanted Dick Cheney," Kapur submitted.
"And needed – and, to some degree, was acknowledged to need a puppet master," Wagner added.
RELATED: Dick Cheney Opens Up About Cardiac Arrests, Terrorist Threat to His Heart
Slate Group Editor-in-Chief Jacob Weisberg said that he has done some research on the subject and said that Bush felt mislead by Cheney towards the end of his presidency.
"I think Cheney brilliantly manipulated Bush," Weisberg asserted.
"How did he make Bush feel like – was it just that Bush wasn't that smart in terms of being manipulated, or was it really, truly skillful?" Wagner asked.
Weisberg said that Cheney flattered Bush, but that dynamic did not last long. "He got what he wanted for five, six years, and then Bush got wise to him and had to recalibrate and Cheney wasn't on board for that," Weisberg said.
Watch the clip below via MSNBC:
[Photo via screen grab ]
— —
> >Follow Noah Rothman (@NoahCRothman) on Twitter
Have a tip we should know? tips@mediaite.com