MSNBC's Alex Wagner Debuts In Racially Charged 'Lean Forward' Ad Mocking Border Security Proponents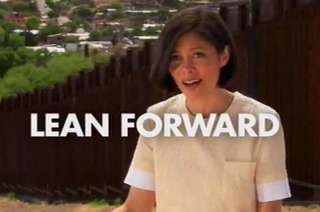 MSNBC's host of the midday panel program Now , Alex Wagner, has debuted in her first "Lean Forward" ad, a series of promotional spots for the network featuring the hosts and anchors opining on a variety of social issues from a liberal perspective. Wagner's premiere ad features her standing in front of a fence on the U.S.-Mexico border, mocking and imparting racial motives to border security advocates.

"Around immigration, there is a sense that we need to punish people," Wagner observes of how the nation treats individuals who broke the law, "when they come here and they don't know our language."
"We've got to punish people who came here the wrong way," she adds with an audible hint of bewilderment after adeptly identifying the crux of an illegal immigrant's violation of American legal code, "even if they've been contributing to American society for a decade or more."
RELATED: Lean Forward… Collectively: Melissa Harris-Perry's MSNBC Ad Says All Of Your Children Belong To Us
"Bigger, meaner, scarier fences," Wagner continues, flanked by perhaps the most anodyne and non-threatening barrier this side of Hadrian's Wall, "by people suggesting electrified, alligator-filled moats to prevent 'them' from coming in."
She's got us on that one. One obscure statement by a partisan Republican who never held elected office vying to be the most conservative candidate in a crowded Republican primary field probably represents the entirety of conventional political thought on the right.
Just for good measure, Wagner adds air quotes around the word "them" in an effort to paint the concerns of border security proponents as being motivated in part by racial mistrust.
But just in case you didn't catch that subtle indictment of the 73 percent of registered voters who support increasing border security before passing a pathway to citizenship for the nation's illegal immigrants (including 82 percent of Republicans, 71 percent of independents and 69 percent of Democrats in a recent, bipartisan Fox News poll), she continues:
"The language that we use to talk about 'those people who want to be here,'" she continues, again employing air quotes around "those people."
"Those people who want to be here are us," Wagner insists.
Lest one forget, this mocking and race-baiting spot is a promotional tool for the entire MSNBC brand. This is a promo for the network and not just Wagner's opinion-based program. Alienating three quarters of the public may be one reason why third out of fourth place in the ratings now constitutes a good day for MSNBC.
Watch Wagner's "Lean Forward" ad below via MSNBC:
> >Follow Noah Rothman (@NoahCRothman) on Twitter
Have a tip we should know? tips@mediaite.com