MSNBC's Alex Wagner Finally Finds Kneejerk Racism Accusation That Isn't Legitimate
Rothman: MSNBCer Finally Finds Kneejerk Racism Accusation That Isn't Legit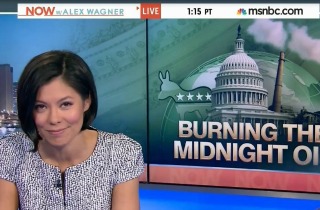 There aren't too many reflexive accusations of racism that MSNBC host Alex Wagner won't embrace. She and some of her colleagues have found concealed racial animus lurking in the background of nearly every public policy debate and social craze of the past several years.
In the past, Wagner has discovered that covert racism framed the debate on subjects ranging from the coverage of the killing of Trayvon Martin to border security. She equated Arizona's proposed religious liberty laws to anti-Gay "Jim Crow laws." She thought Sen. Ted Cruz (R-TX) was a beneficiary of racism due to the fact that a "birther" conspiracy has not sprung up around him in the same way that it has President Barack Obama.
Wagner found a Missouri rodeo clown's 2013 decision to don an Obama mask suggestive of the legacy of "minstrelsy." She said that former Rep. Allen West (R-FL) comparing himself to Harriet Tubman was so "offensive" that it called for members of the Congressional Black Caucus appealing to unspecified extraordinary measures in order to achieve satisfaction. Even NRA CEO Wayne LaPierre raised the specter of racism, according to Wagner, when he cited "South Brooklyn" as an example of an area plagued by looting in the wake of Hurricane Sandy.
This is to say nothing of her stable of guests who regularly exceed the bounds of responsible commentary when it comes to issues involving race.
For Wagner, it would seem, there are few accusations of race-based hatred of minorities that are not absolutely credulous on their face. At least, that was the case until Monday, when the MSNBC host happened across an accusation she found too nonsensical to believe.
In a segment hyping an "all-night talk-a-thon," in which Senate Democrats will spend the evening raising awareness of the perils associated with anthropogenic climate change (and their dwindling 2014 midterm election prospects), Wagner found a "denier" argument that she could not countenance.
Wagner cited a CPAC conference panel speaker who said that a strain of neo-Luddism prevails among climate activists. This CPAC speaker called this strain of technophobia among progressives "human racism."
"It's a prejudice against the man-made," said the Center for Industrial Progress' Alex Epstein on Friday. "It's a prejudice against the man-made, I call this human racism. So there's a very deep human racism behind all of our discussions where we assume — and its chemicals, everything — we assume that if something is man-made, that it is immoral, that it's bad."
"Human beings –- so self-loathing that they are apparently racist against themselves," Wagner mocked.
She concluded by offering her hope that people like Epstein would soon be as marginalized for their views on climate change as Renaissance-era flat earth advocates were once the globe was proven to be spherical.
Criticism aside, there is a praise-worthy element in this clip: It's good to see Wagner, for once, using some discretion before lending credence to an accusation of racism.
Watch the clip below, via MSNBC:
[Photo via screen grab]
— —
> >Follow Noah Rothman (@NoahCRothman) on Twitter
Have a tip we should know? tips@mediaite.com