MSNBC's Alex Wagner Grills WH Adviser: What Does Obama Mean by 'Consequences'?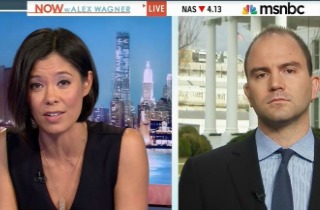 On Friday, MSNBC's Alex Wagner challenged Obama deputy national security adviser Ben Rhodes over the White House's approach to international affairs, grilling him over the administration's handling of the crisis in Ukraine, and noting that the solution to the Syrian crisis has fallen short of expectations.

"I am not one to parrot the pages of the Wall Street Journal editorial board, but what does the word 'consequences' mean to this White House?" Wagner asked. She noted that the president threatened Syrian officials with consequences if the use of chemical weapons continued, which she has been the case and there have been no promised consequences.
"What is happening right now in Syria is inexcusable," she continued. She added that the bloodshed continues in that Levant country and there are reports of recent chemical weapons attacks.
RELATED: S.E. Cupp: U.S. 'Paying for Our Inaction' in Syria More Than for Military Strike
"I think, it has to mean something that's not restricted to military action," Rhodes replied. "When I listen to these critics, the notion is that if we're not going to war in a country, we're not doing something."
He insisted that sanctions imposed on some members of the regime in Ukraine would be effective at curtailing the violence and that the White House is working with the United Nations on a resolution to allow humanitarian aid into the country.
Asked about Obama's "red line" comment, Rhodes said that the White House was only referring to chemical weapons and that they are succeeding in removing those weapons from that country.
"Do you acknowledge that there have been reports that there was another chemical weapons attack in January that the White House has said nothing about?" Wagner grilled.
"We haven't confirmed additional chemical weapons events," Rhodes replied.
Watch below, via MSNBC:
[Photo via screen grab]
— —
> >Follow Noah Rothman (@NoahCRothman) on Twitter
Have a tip we should know? tips@mediaite.com