MSNBC's Alex Wagner Hosts Nail Hammering Competition In Honor Of The Romney Olympics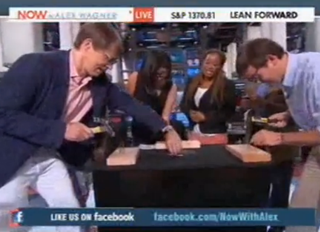 It's a holiday week, and the Washington Post reports that Mitt Romney is currently spending the time with his family for their annual summer retreat. There, they family partakes in the "Romney Olympics," a series of competitive games meant to foster family bonding. And in that spirit of family bonding, Alex Wagner made her panel on Now today compete to see how many nails they could hammer into a board within the span of 45 seconds.

RELATED: MSNBC Panel Explodes As 'Gun Owner' S.E. Cupp Battles Gun Control Advocate
The idea, Wagner explained today, came from an article in the Post about the family summer activities. It provides a run-down of what these games look like:
The Romney Olympics have long included a mini-triathlon of biking, swimming and running that pits Mitt and his five sons and their wives against one another. But after Mitt once nearly finished last, behind a daughter-in-law who had given birth to her second child a couple of months earlier, the ultra-competitive and self-described unathletic patriarch expanded the games to give himself a better shot.

Now they also compete to see who can hang onto a pole the longest, who can throw a football the farthest and who can hammer the most nails into a board in two minutes — not exactly the kind of events they'll be giving out gold medals for in London this month.
In the Romneys' honor, Wagner hosted a round of the last game– hammering nails into a board. Yes, she provided her panel the requisite eyewear.
Watch who wins this round of the MSNBC version of the Romney Olympics below:

—–
»
Follow Frances Martel on Twitter
Have a tip we should know? tips@mediaite.com