MSNBC's Alex Wagner: If Acted Alone, 'Little Difference' Between Tsarnaev Bros, McVeigh And Unabomber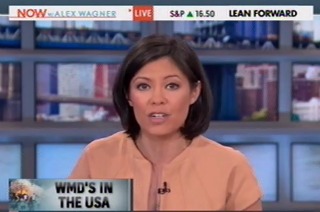 If Dzhokhar Tsarnaev's bedside confession is to be believed, and he and his brother acted without a connection to a foreign terror group, then there would be little difference between their actions and those of Oklahoma City bomber Timothy McVeigh and "Unabomber" Ted Kaczynski. This is, at least, the pronouncement of MSNBC host Alex Wagner who, on Tuesday, took the word of accused Boston Marathon bomber for a fact and equated his actions with those of the two other infamous domestic terrorists.

RELATED: Terror Expert: Boston Attack More Columbine More Than 9/11, These Are 'Murderers Not Terrorists'
"Dzhokhar Tsarnaev, communicating at his hospital bed through nods and brief notes, told federal officials that he and his brother acted alone," Wagner began her noon program on Tuesday, "without the help of a terrorist network."
"If Tsarnaev is indeed telling the truth, it ends debate regarding whether to try him as an enemy combatant," she continued. "With no ties to foreign terrorist networks, there would be little difference between him and so-called homegrown and lone wolf terrorists including Timothy McVeigh and Ted Kaczynski."
Even if one is so inclined to believe the confessions of an individual accused of carrying out one of the most effective terror attacks on U.S. soil since 9/11, one must factor in the notion that the younger Tsarnaev brother is less connected to terror networks abroad than was his deceased brother.
As CNN's Jake Tapper reported on Monday, it was Tamerlan Tsarnaev who was the motivating force behind the attack and who spent the better part of six months in Chechnya just last year. It is entirely possible that the younger Tsarnaev brother genuinely not aware of the deeper connections his brother may have had to foreign networks.
Furthermore, Wagner's linkage of the Tsarnaevs to rightwing militia member McVeigh and the violent luddite Kaczynski would be unassailable outside the context of the global war on terror against militant Islamists.
Given the events of the last decade, however, characterized by the global fight against Islamic terror networks, and the fact that an "Al Qaeda-supported" plot to attack passenger trains was broken up just yesterday, Wagner's pronouncement reflect a strange desire to minimize the Tsarnaevs' stated motives.
Regardless of whether American officials use that term or not, the Tsarnaevs were, by admission, Islamic militants and are, therefore, combatants in the global war on terror.
It is possible that the Tsarnaevs were true lone wolves — animated only by romantic Islamist YouTube videos and Al Qaeda's online magazine — but that has not yet firmly established. It is telling that Wagner seems invested in tamping down the reality that the Tsarnaevs' were infatuated with Islamic militant prophecy and it moved them to kill Americans.
Watch the clip below via MSNBC:
> >Follow Noah Rothman (@NoahCRothman) on Twitter
Have a tip we should know? tips@mediaite.com