MSNBC's Andrea Mitchell Confronts Wasserman-Schultz Over Obama's Lack Of 'Accessibility'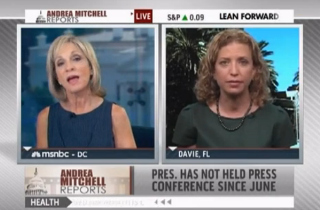 Friday afternoon on MSNBC, host Andrea Mitchell confronted Obama surrogate Debbie Wasserman Schultz (D-FL) over a growing sentiment that there is a lack of national political press access to President Barack Obama.
Mitchell mentioned to the congresswoman that President Obama has not held a formal news conference since March 6th, and bemoaned his lack of "accessibility" by playing a snippet of a local radio interview the president did, in which the hosts asked a non-political question about whether he prefers the color red or green.
"This is right after doing Entertainment Tonight," Mitchell complained. "I know what the White House is saying, 'Well, he does interviews all the time with local. … Doing this kind of radio interview occasionally is fine, I'm sure, but what about answering the really tough questions that experienced political journalists who cover him all the time, who are members of the White House press corps, are going to ask him?"
"It's important for local reporters to be able to get a chance to ask him questions beyond how good the local food is," Wasserman Schultz replied.
"Sure, but it shouldn't be a replacement," Mitchell interrupted, "for a national press conference, which we could all put on the air and share with all the viewers around the country."
"And we fully expect President Obama will submit himself to questions from the DC press corps," the congresswoman said, "but it is important that local press have a chance to ask questions. […] The DC press corps gets plenty of opportunities to grill President Obama and also to grill Jay Carney, his spokesperson."
"Not lately," muttered Mitchell in response.
"He will be getting himself in front of the DC press corps again, I'm confident of that," Wasserman Schultz reiterated, before Mitchell shot back: "I'm not talking about the DC press corps. I'm talking about campaign reporters who are traveling with him."
"I know," the Florida congresswoman responded. "You will have an opportunity for sure."
Watch below, via MSNBC:
— —
>> Follow Andrew Kirell (@AndrewKirell) on Twitter
Have a tip we should know? tips@mediaite.com