MSNBC's Ari Melber: Jeffrey Toobin Defending 'Hallmark of Authoritarian Dictatorships'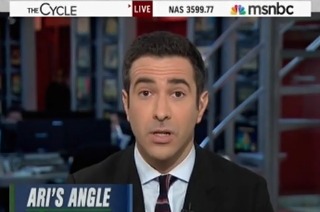 MSNBC host Ari Melber rebutted Jeffrey Toobin on Wednesday after the CNN legal analyst said that The Guardian reporter Glenn Greenwald's partner, David Miranda, was correctly detained by U.K. police over the weekend because he was essentially acting as a "drug mule" by transporting government documents. Melber said that Toobin was embracing a defense of what is essentially the "hallmark of authoritarian dictatorships."

Melber began by asserting that the U.K. violated Miranda's civil rights by detaining him "without rights or contact with others" four nine hours because he was suspected of transporting classified documents.
"It looks like the U.K. exploited that special power for fighting terrorism in order to harass the husband of a journalist who has been reporting on government surveillance," Melber asserted. "Abusing security powers to harass the press is a hallmark of authoritarian dictatorships, not open democracies."
RELATED: Jeffrey Toobin Compares Greenwald's Partner to a 'Drug Mule' in Fiery CNN Debate
Turning to Toobin and his recent claim that Miranda acted as the equivalent of a "drug mule," Melber insisted that merely being in possession of government documents does not open anyone up to detention or harassment. He cited the fact that journalists in general are often in possession of information that governments regard as damaging, but that is not the legal equivalent of printing that information.
Secondly, the claim that Miranda should not have transported documents at all because he is not a journalist is, in Melber's opinion, absurd. "It doesn't matter what Miranda does for a living," he insisted. "He has a right to due process, and a right to counsel, and a right not to be harassed by government officials who don't like the way his husband writes about them."
"The police were acting on a specific authority for detaining suspected terrorists," Melber said. "From the information we have right now, it's clear they abused that power."
He concluded by lamenting the fact that, by abusing their authority, British officials have endangered the public trust in counterterrorism policing methods and tactics.
Watch the clip below via MSNBC:
> >Follow Noah Rothman (@NoahCRothman) on Twitter
Have a tip we should know? tips@mediaite.com