MSNBC's Ayman Mohyeldin Corrected On-Air After Suggesting Dead Palestinian Terrorist Wasn't Armed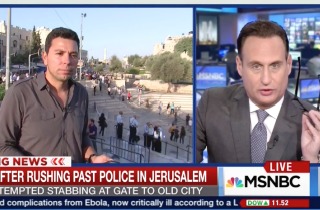 NBC News reporter Ayman Mohyeldin was corrected on-air yesterday after a live report that implied a Palestinian terrorist who charged at officers brandishing a knife didn't have a weapon on him.
Amid a disturbing series of stabbing attacks this month, there was another attempted stabbing near the Damascus Gate yesterday. The man charged at police officers with a knife and they fatally shot him.
Mohyeldin reported live on MSNBC Wednesday morning that he and the NBC News team had a good vantage point and they did not see anyone getting stabbed "at the time of this incident." He said the man who approached the police was shot after ignoring multiple warnings.
He himself did not confirm that the attacker had a knife on him, telling Jose Diaz-Balart that when he was lying on the ground "both of his hands were open and both of his hands did not have a knife."
Diaz-Balart jumped in to bring up a still image NBC News obtained in which "we can clearly see the man… with what appears to be, at least in his right hand, a knife."
This is the image he's referring to: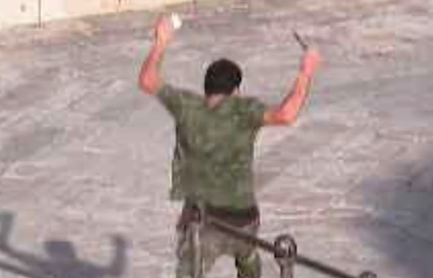 Diaz-Balart very carefully went over the details and again emphasized that the attacker had a knife on him.
Mohyeldin said that was the "point he was trying to make": that his hands were empty when his body was on the ground. He said, "That does not mean he didn't have a weapon. It just means that that particular incident, where he became visible to us… with my bare eyes, they were, at that point, emptied from the weapon that he may have had."
You can watch the segment here, via MSNBC:
As Mediaite has noted in this space recently, plenty of the media coverage of these attacks has demonstrated a certain bias, with slightly more emphasis on the killing of the attackers than the attacks themselves. And a write-up of Mohyeldin's reporting on NBC News' website demonstrates a similar issue, with the emphasis on how a man was shot dead "after rushing past a checkpoint" coming before the note that he appeared to be armed and was attempting to attack people.
That report also notes "That incident referenced by [Police spokesman Micky] Rosenfeld did not take place in front of NBC News cameras."
Mohyeldin has previously been scrutinized for criticizing the United States for not officially recognizing Hamas and said they should "be able to rein in Israel in terms of some of the actions it takes on the ground." And earlier this year, he was on MSNBC ripping Chris Kyle's "racist tendencies."
[h/t The Lid]
[image via screengrab]
— —
Follow Josh Feldman on Twitter: @feldmaniac
Have a tip we should know? [email protected]
Josh Feldman - Senior Editor