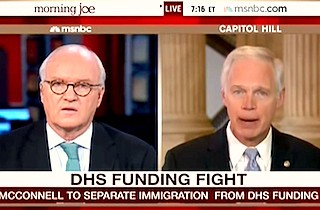 Morning Joe regular Mike Barnicle sparred with Senator Ron Johnson (R-WI) Tuesday morning over the GOP's next move to pass funding for the Department of Homeland Security, funding for which expires in four days.
Congressional Republicans have tried to use the vote to defund President Barack Obama's immigration orders, a bill that can't pass through the Senate. Senate Majority Leader Mitch McConnell (R-KY) is now proposing splitting the bills, and Barnicle asked Johnson why he wouldn't back a "clean" vote on DHS funding. "According to your logic and your math it would pass immediately," Barnicle insisted.
Johnson essentially replied that Obama started it. "It's President Obama who has put immigration reform and law into this debate on funding Homeland Security," he said. "President Obama, Democrats are holding our homeland security hostage for their form of immigration reform. …President Obama picked this fight."
"So be bigger than him!" Barnicle said.
"He's changing the law," Johnson argued, proposing instead to vote on a bill excluding the disputed immigration orders from the funding entirely. "Let's not concentrate on the areas of division. Let's concentrate on the areas of agreement."
Host Joe Scarborough pointed out that polls indicated the GOP would likely take the blame for a DHS shutdown in the midst of terror threats real and imagined. "It is unfortunate reality that — let's face it, the mainstream media is not on the Republicans' side," Johnson replied. "So they'll always blame us."
Watch the clip below, via MSNBC:
[Image via screengrab]
——
>> Follow Evan McMurry (@evanmcmurry) on Twitter
Have a tip we should know? tips@mediaite.com