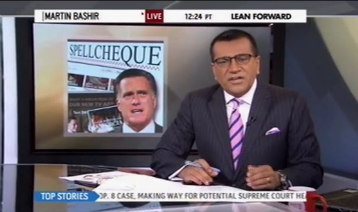 Presumptive Republican presidential nominee Mitt Romney's campaign spelling gaffes got a lot of play last week. The "Amercia" iPhone app was properly lambasted by Stephen Colbert, and mocked by everyone with even the slightest sense of humor. But that meme's time has probably run out. We should probably move on to the next funny story, but Martin Bashir refuses to do so.
On Tuesday's edition of his eponymous MSNBC program, Bashir dedicated a short segment entirely to rehashing the Romney campaign spelling errors. "If three makes a trend, then Mr. Romney, well, spell-check is screaming, and the red pen is nearly out of ink," Bashir said in slightly overwrought language.
Bashir cited the "Amercia" iPhone app misspelling, and then moved on to the Romney campaign's Facebook page misspelling of "sneak-peek" as "sneak-peak." Bashir joked "the only problem: your campaign was promising an early look, not a mountaintop." And his final example was "the dreaded missing 'i'" from the Romney Facebook page's "Official Gear" link, misspelled as "Offical Gear."
These spelling gaffes are hilarious, but any suggestion that these make candidate Romney any less fit for office are silly party politics. I'm not sure Bashir knows any better, given his attempt on Monday to coerce reporter Luke Russert into agreeing with the White House's talking points.
Bashir then draws a parallel between the Romney campaign's spelling errors and Michele Bachmann's famous misspelling of her own name on PAC paperwork, and former Vice President Dan Quayle's infamous misspelling of the word "potato."
Both instances are hilarious as well, but they were actually committed by the politicians in question. In Romney's case, it was some web development staffer with poor copy-editing skills.
It's not like Romney sat there pecking away at his keyboard, writing the complicated coding that went into that "Amercia" iPhone app or the widgets for his campaign's Facebook page. (Heck, I know plenty of people who'd consider voting for him if he actually knew something about web development.)
This whole ordeal is precisely why I (and many Americans!) loathe party politics: Once you pick a side, the entire discussion turns into summer camp Color War, a petty battle between teams red and blue, both playing a game of "my idiot vs. their idiot" while ignoring the real issues at hand.
Both candidates have substantial flaws worth exploring, but instead both parties dwell on tangential stories like this one.
>> Follow Andrew Kirell (@AndrewKirell) on Twitter
Have a tip we should know? tips@mediaite.com