MSNBC's Brzezinski Grills David Brock on Clinton Emails: 'Are We Going to Do This Again?'
Brzezinski Grills Brock on Clinton Emails: 'Are We Going to Do This
Again
?'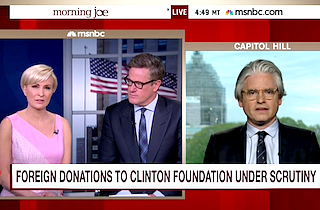 A Morning Joe panel lit into Media Matters founder and Clinton surrogate David Brock Tuesday morning, picking up right where the show's previous testy exchange with Brock over the deletion of Hillary Clinton's emails from her private server left off.
The subject is back thanks to a new book, one Brock alleged is funded by "Clinton's enemies," which purports to detail quid quo pro arrangements between foreign entities donating to the the Clinton Global Initiative and Clinton's actions as Secretary of State. It would be a lot easier to disprove those claims, the show's hosts pointed out, if Clinton hadn't deleted her emails.
When Brock welcomed the media to take a look at Clinton's record, host Mika Brzezinski, who can barely conceal her disdain for Brock, objected, "But we kind of can't. Because what should be in the public record or at least viewed by the State Department, has been scrubbed…Don't deflect. I'm talking about the ones that were scrubbed. How can you get answers from the ones that were scrubbed that might be considered, quote, personal business? There is no answer, is there?"
When Brock said that Clinton had turned over 55,000 pages of emails to the State Department, an exasperated Brzezinski said, "Are we going to do this again?" Brock went on to claim Clinton had followed government regulation in the retention of her emails, with which Brzezinski strongly disagreed. "I don't need you to give me a lesson on the regulations of the State Department," she said.
Watch below and delete your account, via MSNBC:
[Image via screengrab]
——
>> Follow Evan McMurry (@evanmcmurry) on Twitter
Have a tip we should know? tips@mediaite.com