MSNBC's Brzezinski on 'ISIS Founder' Comments: Maybe Trump Was Just Really Tired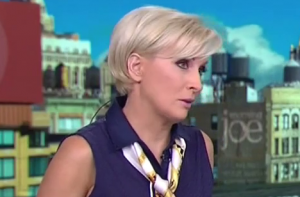 MSNBC Morning Joe host Mika Brzezinski speculated Friday that the reason Donald Trump made his controversial claim that Barack Obama and Hillary Clinton were the founders of ISIS was because he just isn't getting enough sleep.
Co-host Joe Scarborough brought up a point Brzezinski had made during the break. "I think you're dead on, for people that know Trump, about why he is getting even more erratic on the campaign trail, especially at night."
"Well, from knowing him over time, this candidate is not the person we knew," she said. "I think he is absolutely exhausted. I don't think he's slept."
"I don't think he's slept since the nomination and even before when he was starting to realize he was going to win the nomination," Brzezinski continued. "I think he sleeps in, from what I've heard, two-hour spurts. And that takes a toll on the brain in a very real way."
"It impacts your judgment, it impacts your mood, it impacts your ability to connect with people, it impacts your ability to retain and take in and process information. I think he's losing it," she concluded.
The Washington Post's Robert Costa revealed that he had once suggested to Trump that his lack of sleep was affecting his campaign, only to for Trump to balk at the suggestion. "He said, 'I'm so high energy.' So I think this is how he sees himself: always high energy."
But NBC's Willie Geist was somewhat skeptical about the entire proposition. "That may be true, but there's no level of sleep deprivation that would make us call the President of the United States the founder of ISIS," he pointed out.
[h/t Free Beacon]
[Image via screengrab]
——
>>Follow Alex Griswold (@HashtagGriswold) on Twitter
Have a tip we should know? [email protected]
---