MSNBC's Chris Hayes Confronts His Daily Mail Alter Ego, 'GOP Strategist Chris Haynes'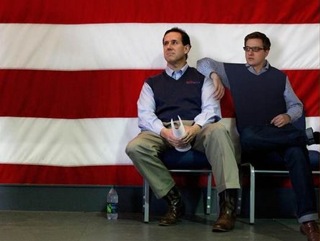 Is the Daily Mail trying to tell us something about MSNBC host Chris Hayes? During this morning's Up, Hayes noted that he got a shoutout of sorts in the British paper– or at least his photo was in the paper, accompanied by a bizarre caption. In an article about Clint Eastwood's Super Bowl ad, the Mail ran a screencap of an episode of The Rachel Maddow Show hosted by Hayes with the caption: "GOP strategist: Chris Haynes, guest hosting The Rachel Maddow Show on Monday night, charged that the ad was 'politically potent.'" Naturally, Hayes the progressive columnist found the idea of Haynes the GOP strategist hilarious.
RELATED: MSNBC's Chris Hayes On New Newt Clip: 'So Racist It Makes Me Want To Curse On-Air'

During this morning's "Now We Know" segment, Hayes introduced his "alter ego Chris Haynes, GOP Strategist," from the caption on this article. Aside from the caption, a part of the article reads:
Republican media strategist Chris Haynes, guest hosting The Rachel Maddow Show on Monday night, also reflected on the controversy boiling over the ad.

'If you doubt the potential effectiveness of this message, if you doubt its political potency, all you have to do is look at the conservative backlash against the Clint Eastwood ad today,' Mr Hayes said.
"We now know why I have a weekend show– so I can run my GOP consulting business on the weekdays!" Hayes joked. "You can thank me for the sweater vests." His staff also "dug up" this amazingly well-done doctored photo of "GOP strategist Haynes" with Rick Santorum.
Unfortunately, there doesn't appear to be a real Republican media strategist named Chris Haynes, at least upon first look. But if there is, let us pray to the media gods that he get booked on Up, at least for one day.
The clip via MSNBC below:

Have a tip we should know? tips@mediaite.com