MSNBC's Chris Hayes Defends Pamela Geller: She Has the 'Right to Be Horrible'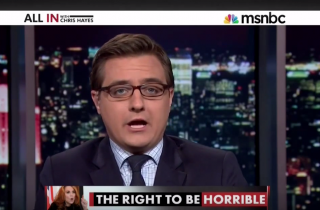 While prominent Fox News stars Bill O'Reilly, Greta Van Susteren, and Geraldo Rivera have repeatedly slammed Pamela Geller and her "Draw Muhammed" contest that was the subject of a thwarted attack, the anti-Islam activist has gotten support from a seemingly unlikely place: Chris Hayes.
The MSNBC primetime host joined his Fox competitor Megyn Kelly in offering a stern defense of Geller's speech rights, refusing to suggest that her bigoted speech somehow invites violence.
"This idea that this was a provocation — which, yes it was a provocation — but I don't care if it was it was a provocation if what it's provoking is attempted murder," Hayes said Thursday evening, "because I want to live in a society that that is essentially not okay and not tolerated."
Both Hayes and his guest, Daily Beast columnist Michael Moynihan made it abundantly clear they do not particularly care for Geller's "odious and cretinous views," but that such views should never be met with the threat of violence, nor should they ever be used as justification for murdering the views' holders.
The MSNBC host related the threats against Geller's speech to a quandary often discovered by media folk: "If we were going to do a segment that was about someone that was advertising on the network and I was kind of on the fence about it, or actually didn't like the segment, right, I thought it was a little unfair maybe, but then someone came to us and said 'you can't do that segment because of an advertiser.' I'd be like, 'now we have to do the segment.' Because I have to — it has to be the case that we can do that segment."
Watch that segment below, via MSNBC:
And in an earlier segment, Hayes offered his thoughts in monologue form, echoing what would be explored in the above text. Watch that below:
[h/t Washington Examiner]
[Image via MSNBC/screengrab]
— —
Have a tip we should know? tips@mediaite.com