MSNBC's Chris Hayes: Phone Hacking Scandal Could Be Devastating For Murdoch Papers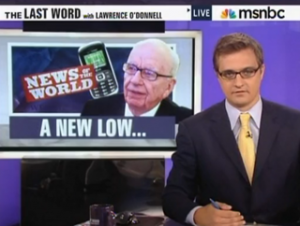 News Corp head Rupert Murdoch is facing a serious journalistic scandal in the UK— British paper News of the World has been accused of hacking into the phones of celebrities, missing persons, and even victims of the 2005 London bombing. On The Last Word tonight, host Chris Hayes detailed the accusations against Murdoch's paper and the reverberations up the British conservative political ladder as more details emerge.
Hayes began by explaining the story of missing teen Milly Dowler, whose phone mysteriously began to take voicemail messages despite her inbox supposedly being full after she was said to pass. Her family, Hayes narrates, "thought she was still alive," because News of the World had hacked into her phone, "intercepted voicemails… and then deleted those voicemails to make room for new ones." Besides Dowler, an investigation has found that many victims of the 2005 London bombing were also hacked and monitored, and now the British government is threatening a legal investigation.
Hayes also had The Independent's Archie Bland on the program to describe how the story has begun to consume England– "it is of obsessive interest to the whole country." Bland argued that the problem Murdoch faces is almost exclusively in the UK, but the The News of the World as his flagship British paper could face problems it never did before. "All this week," Bland noted, "advertisers have been pulling out of the paper," and if this affects circulation, Murdoch could have a serious problem on his hands.
The segment via MSNBC below:

Have a tip we should know? [email protected]