MSNBC's Chris Hayes: Where Are Subpoenas Of New York Times For Publishing Pro-Obama Leaks?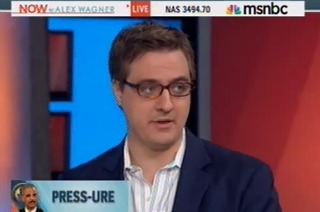 During a panel discussion on MSNBC's Now on Thursday regarding the Department of Justice's sweeping subpoenas of Associated Press and Fox News journalists' communications records, MSNBC host Chris Hayes said that there is another shoe yet to drop in this story relating to the leaks published by the New York Times. The Times, Hayes argued, has received a number of high-profile government leaks framing the actions of this administration in a positive light. He said that those warrants for the Times' communications records must exist, but the public has just not yet seen them.

"There's no evidence that any of these leaks have harmed national security," said Huffington Post Washington Bureau Chief Ryan Grim. "What they have done, in general, is embarrassed the people whose job it was to keep it secret."
Grim said that the DOJ was using their "prosecutorial power in a vengeful kind of way" against reporters and sources that embarrass the administration, not those who compromise national security.
RELATED: Scarborough, Willie Geist Agree: DOJ Scandal Turned Media Against White House — But Only 'Fleetingly'
"The other shoe to drop on this is the Stuxnet leak investigation," Hayes added. He said that the leak relating to the Stuxnet virus which debilitated the Iranian nuclear program was clearly released to New York Times reporter David Sanger from a high-level source. "There's just no way it wasn't," Hayes added.
Hayes said that it would only be fair for the DOJ to be investigating those leaks as well, and he suggested that those investigations had probably taken place.
"There is no way, in my humble opinion, that the New York Times was not subject to the same kinds of warrants," Hayes speculated. "We haven't seen them yet, but I would bet that they're going to come out."
Watch the clip below via MSNBC:
> >Follow Noah Rothman (@NoahCRothman) on Twitter
Have a tip we should know? tips@mediaite.com