MSNBC's Chris Jansing Hammers GOP Rep. Over Republican Governors Sabotaging Obamacare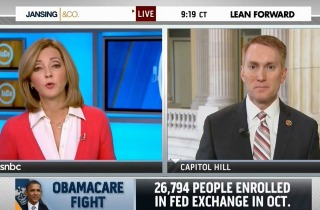 On Tuesday morning, MSNBC anchor Chris Jansing invited Rep. James Lankford (R-OK) on her program to defend Republican-supported legal challenges to the Affordable Care Act. During the interview, Jansing repeatedly challenged Lankford to defend some Republican governors' decisions to not expand Medicaid and whether the GOP is sabotaging the implementation of the law.

Jansing began by noting that a number of legal challenges are being mounted to provisions within the ACA – with one being taken up by the Supreme Court. She noted that the Court has already ruled that the ACA "is the law of the land."
"Are Republicans grasping at straws here?" she asked.
"They're actually not grasping at straws," Lankford replied. He observed that the Supreme Court only ruled on one provision within the ACA, but a number of other challenges are both legal and appropriate.
RELATED: Howard Dean Dismisses 'GOP Sabotage': 'Republicans are Irrelevant' to Whether Obamacare Works
He added that the law includes a variety of penalties and taxes apply to state-level insurance exchanges which do not apply to federal exchanges.
"Well, they didn't anticipate that 30 plus states – 34, 36 depending how you count all of them – are actually going to do federal exchanges," Lankford said. "The problem is the law doesn't work the way it's written, so they just interpreted it to say, 'Well, we assume the law meant to say something else."
"Isn't that because republicans refused to set up those exchanges?" Jansing pressed. "Republican governors made a lot of decisions out there to do that. That was not anticipated."
"So, your anticipation would be that we should have mandated all that and not let the states make a choice when the Supreme Court actually said you can't do that," Lankford countered. "You can't just change the text of a law saying, 'Well, we would have written it a different way if we'd have known you were going to do that.' That has to go through the legislative process."
Jansing ran off a list of points provided by the White House which they claim indicates that the ACA is functioning well overall and is a benefit to the country's finances. "Aren't those all good things?" she asked.
Lankford said they would be if the benefits weren't outweighed by the costs associated with the implementation of the ACA.
Finally, Jansing pressed Lankford to explain the logic behind his state's refusal to expand Medicaid. Lankford shot back that his state has implemented a state-based solution to extend coverage to the uninsured – a plan he says was made "illegal" by the ACA.
Watch the clip below via MSNBC:
[Photo via screen grab ]
— —
> >Follow Noah Rothman (@NoahCRothman) on Twitter
Have a tip we should know? [email protected]