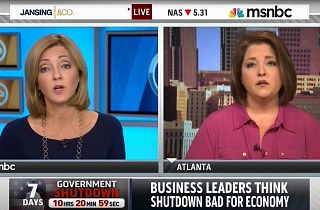 MSNBC anchor Chris Jansing tore into Tea Party Express Chairwoman Amy Kremer during a Tuesday morning segment in which the two argued over what conservative Republicans in Congress are seeking to get out of a government shutdown. Jansing repeatedly prodded Kremer to defend the GOP's actions given the results of the 2012 presidential election. "You lost," Jansing reminded Kremer.

"This is not really about the government shutdown, this is about Obamacare," Kremer began, "A bad law that has been shoved down our throats."
"How was it shoved down your throats?" Jansing interjected. "It was passed. it was passed by both houses. It was affirmed by the Supreme Court. You lost."
"It was passed with a procedural trick, not through the normal process," Kremer countered. "The Supreme Court rewrote it as a tax."
"You and other people made Obamacare a huge campaign issue and you did it very forcefully, and you did it backed by millions of dollars and the American people re-elected Barack Obama by a substantial majority," Jansing countered.
RELATED: Obamacare's 'Faulty Data' Could Mean Some Americans Who Sign Up Won't Be Covered
"President Obama made a promise that he knew was not real," Kremer replied. "You can keep your doctor. You can keep your plan."
"Do you think it's right for anybody to go out there and make promises that they know are not going to be kept?" She asked Jansing.
"Do you think it's right, Amy, for American families who have lost loved ones fighting overseas for our freedom in Afghanistan don't get their benefits because of the government shutdown, can't pay for the funeral, can't fly to beat the coffin," Jansing replied.
"That's horrific," Kremer answered. She insisted that it was the responsibility of the Senate to pass legislation which would restore funding to military families. Jansing said that the GOP refused to enter budget conference negotiations 18 times. "That is a fact," she insisted.
Watch the clip below via MSNBC:
[Photo via screen grab ]
— —
> >Follow Noah Rothman (@NoahCRothman) on Twitter
Have a tip we should know? tips@mediaite.com