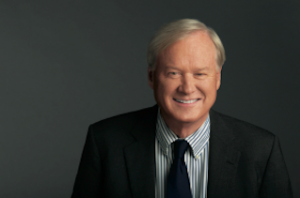 MSNBC's Chris Matthews sat down for an extended interview with Terry Gross on NPR's Fresh Air this week. While the interview mostly centered on Matthews' new book, Tip and the Gipper: When Politics Worked
, towards the end Gross asked Matthews how he's been dealing with the switch from occupying two hours of MSNBC's afternoon schedule to just one at 7pm.
Matthews explained that MSNBC head Phil Griffin made the move, bringing Ed Schultz back from weekends to 5pm weekdays and shifting Matthews' live show to 7, so that the network's ratings will "go up every hour." He said that when he was on twice in the same afternoon, the 5pm broadcast would inevitably rate higher than the 7pm rerun.
"For total audience, of course, I'd like to have both hours," Matthews admitted. But in terms the actual ratings within the hour, he said it's "proving to be very successful." While he said, "We all on television want to be on all the time," he called the new 7pm time slot "fine."
Matthews explained that he likes catching people in the hour before they sit down to dinner, or even during dinner, where they want to "relax" and "learn in a rich way what happened that day of political consequence." He said it's much harder to do a show later in the evening, like the one Rachel Maddow does at 9pm, where you "have to very enriching kind of discussion about policy question."
"I have the benefit of bringing the news," Matthews said. He said his main goal on the show is to "grab the news, say what I think of it, and then have some arguments about it."
In terms of ratings, Matthews is right, it has been a "successful" move for MSNBC. His 7pm broadcast has been consistently rating higher than either the 5 or 7pm broadcasts before Griffin made the switch and is often the highest-rated hour on the network's primetime schedule.
Listen to audio below, via NPR:
[photo via screengrab]
— —
>> Follow Matt Wilstein (@TheMattWilstein) on Twitter
Have a tip we should know? tips@mediaite.com