MSNBC's Chris Matthews: 'Strong' Mike Pence Won the Debate Over 'Desperate' Tim Kaine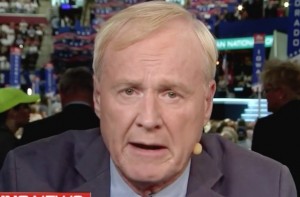 Liberal MSNBC host Chris Matthews said Tuesday night that he believed Republican vice presidential candidate Mike Pence won Tuesday's debate with Democratic opponent Tim Kaine,
"I thought that Mike Pence did all the things right that Donald Trump did wrong," Matthews said in his post-debate analysis. "His body language was excellent, he was very good on reaction, he looked like a grown-up."
Matthews said Pence did great despite having to defend Trump's policies, which he likened to have a pair in poker against a full house. "He came across as a grown-up, strong, I thought he was very effective at being a conservative. What I really think he accomplished is he made himself the front-runner for the Republican nomination in 2020."
"On the other hand, I thought at times, and I like the guy, Kaine was a little desperate there, jumping in all the time, always trying to get his points…" Matthews said. "I don't know why he kept interrupting, because with two people debating, the other guy gets the chance to speak. He couldn't wait for that, and I think that hurt him."
Matthews said Kaine did a good job at hitting Democratic "erogenous zones," but the winner was clear. "Overall, I think the winner tonight will end up being – in terms of the debate and what they were trying to accomplish– Pence," he said. "Because Pence was solid, he looked like he had his head screwed on, and that's going to look very important for Trump, who often doesn't look like he has his head screwed on.
Watch above, via MSNBC.
[Image via screengrab]
—
>>Follow Alex Griswold (@HashtagGriswold) on Twitter
Have a tip we should know? tips@mediaite.com