MSNBC's Credibility on the Line If Alec Baldwin's Latest Scandal Unaddressed
Rothman: MSNBC's Credibility on the Line If Alec Baldwin's Latest Scandal Unaddressed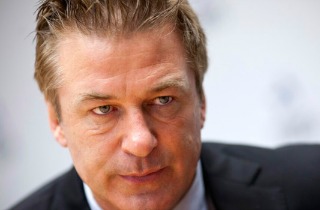 MSNBC's newest host, Alec Baldwin, is in some hot water – again – for allowing his basest impulses to overrule his better judgment. When confronted by a paparazzo on the streets of New York City recently, Baldwin let loose a stream of sexually explicit and homophobic slurs. This behavior has become commonplace with Baldwin. But now that he is no longer an eccentric actor but a cable news host, the former 30 Rock star is being held to a higher standard.

The actor's new role as an on-air host at a cable news network requires, some would say, that he conduct himself in a fashion consistent with the standards of the network he represents. Indeed, some media personalities are no longer laughing at Baldwin's antics.
"Alec Baldwin shows his true colors yet again," said the clearly offended and openly gay CNN host Anderson Cooper. "How is he going to lie and excuse his anti-gay slurs this time?"
Daily Dish blogger Andrew Sullivan opened up on Baldwin and MSNBC on Thursday in a searing attack:
"It seems to me that this double standard cannot stand any more," Sullivan wrote in the immediate wake of Baldwin's comments. "And this raging, violent bigot cannot be defended any longer."
RELATED: Alec Baldwin Chases TMZ Paparazzo, Calls Him 'C*cksucking Fag'
In a follow up post, when Sullivan could not stand the silence form the left-leaning cable news network any more, he ripped into them furiously:
"What a bunch of hypocrites and phonies on that propaganda network," Sullivan wrote. "If you're a conservative and are caught yelling these slurs at random people, you'd be fired pronto or buried in an avalanche of gay protest. If you're a self-entitled liberal, you're fine."
The fact that the Baldwin incident has not yet been addressed is shocking. This is hardly an isolated incident. MSNBC knew what they were getting when they hired Baldwin, and should have been prepared to discipline him when – not if – the next torrent of expletives came streaming from the actor's unfiltered subconscious.
Indeed, while the circumstances were slightly different (and the management was entirely different), MSNBC set a precedent for harshly disciplining a host who launched an offensive volley of gay slurs. In 2003, conservative MSNBC host Michael Savage attacked a caller on the air who he called a "sodomite" who "should only get AIDS and die." He was promptly let go from the network, and this was long before it became the cable news home for progressive opinion.
But, if firing Baldwin seems too harsh, there are other options available to the network to recoup some of their ever-fading credibility on the issue of consistency. In 2012, when Rutgers men's basketball coach Mike Rice was caught on camera using the word "faggot" in practice with his players, a firestorm of controversy erupted around him.
Rice was dealt a three-game suspension, was required to meet with anti-defamatory groups, underwent sensitivity training, and was forced to welcome a monitor into future practices.
Any of these options are available to MSNBC to deal with the Baldwin incident. Many are waiting for the network to practice what they preach.
Mediaite reached out to MSNBC for comment this afternoon and has not yet heard back from them as of the time of this publication. We will update this post when MSNBC replies to our inquiry.
[Photo via NBC]
— —
> >Follow Noah Rothman (@NoahCRothman) on Twitter
Have a tip we should know? tips@mediaite.com