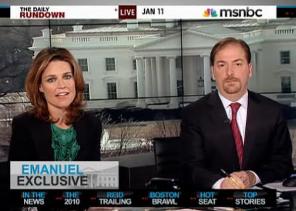 Joe Scarborough and the Morning Joe team on MSNBC tossed to another new program at 9amET this morning, The Daily Rundown anchored by Chuck Todd and Savannah Guthrie.
NBC News' White House correspondents anchored a very D.C., political junkie-centric show – with an exclusive interview with Chief of Staff Rahm Emanuel as the centerpiece.
The Emanuel interview came in the first half hour, and allowed the Todd/Guthrie tandem to take the biggest cable news story of the day, Sen. Harry Reid's "negro dialect" comment from the book Game Change, directly to one of the more colorful interviewees of the Obama administration. Emanuel said Pres. Obama's confidence level in Sen. Reid was "100% – absolute confidence," and he pressed the point that the administration wanted to move on. "What's important is not what was said a year ago," said Emanuel. "It's what the challenges that they're facing here today in the country."
Does the media agree? Not at this point.
The MSNBC anchors also asked Emanuel about his political future (which was also the topic of much gossip this weekend). When asked if he'd remain Chief of Staff through 2010, he said, "Yes, I'm staying."
He said 'no' to whether he'd run for mayor of Chicago and another 'no' to whether he'd run for his old House seat again. "I plan on staying as long as he wants me here," said Emanuel.
Besides the centerpiece interview, Todd and Guthrie also interviewed Republican Sen. John Cornyn, who naturally had a different opinion of fellow Sen. Reid's comments.
The rest of the show felt like a slightly less polished, more prompter-dependent version of Morning Joe, with inside-the-beltway political news and analysis mixed with friendly banter between Todd and Guthrie. It was the first day, so the on-air chemistry will take time to develop.
But conceptually, the political junkies will enjoy it. A lengthy segment from Todd (standing at his version of a "Magic Wall") took on 2010 Senate and House races in depth, including Sen. Reid's. One unique moment was when a full-screen graphic broke down Pres. Obama's schedule for the day.
There were a couple times when the topics strayed – a discussion of Leno's move back to 11:30, a reader about Derek Jeter's rumored wedding – and they appeared more out of place here than in a regular MSNBC dayside hour (or even during Dylan Ratigan's Morning Meeting). If the show can stick to its political roots, and remain objective in a way that Morning Joe has strived to do, it can satisfy its audience's appetite for political news.
Here's the Rahm interview:

Visit msnbc.com for breaking news, world news, and news about the economy
—–
» Follow Steve Krakauer on Twitter
Have a tip we should know? tips@mediaite.com