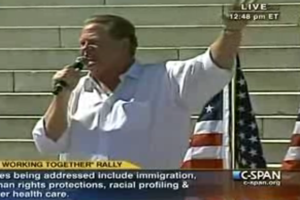 MSNBC host Ed Schultz once received attention for claiming he easily could put together a rally as large as Glenn Beck's "Restoring Honor" rally. Today his dream has come true, sort of, as he received an invitation to address the liberal "One Nation Working Together" rally. Today was all about "the people" and how now "is a time to fight for America."
If that sounds exactly like something out of "Restoring Honor," that's because it is. With the exception of his pro-Obama, pro-universal health care, anti-corporation talk, much of Schultz's message sounded like a diluted version of Beck's, centered around patriotism and unity in difficult times, and self-reflection– a far cry from Schultz's usual "fat slob," "torch the place" fare.
Asking the crowd whether they were Americans several times, to cheers, Schultz directed them to look within themselves and assert their identity:
"It is a defining moment for this country for us to look into our hearts and our soul to really find out who we are as a people, as a country, as a family. The conservative voices of America are holding you down. They don't believe in your freedom."
Rally numbers will have to wait to see if Schultz was right about how easily he could gather hundreds of thousands on the Washington Mall, but if he succeeds (unlikely as it may be that he does), he owns plenty of his rhetoric to Beck himself.
Video of his speech via C-SPAN below:
Have a tip we should know? tips@mediaite.com