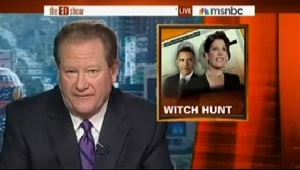 Now that the GOP has regained control of the House of Representatives, some are suggesting that the impeachment proceedings of President Obama are just around the corner (regardless of any evidence to support such a claim.) What's more surprising is that the leading proponent of such an far-fetched narrative is none other than MSNBC's Ed Schultz, who is nothing if not a fierce supporter of the president.
To be fair, Mr. Schultz is not the only national personality to discuss the impeachment meme. Tom Tancredo floated the idea in July, immediately earning derision from the Fox News host Megyn Kelly. And a recent issue of The New Republic featured an article by Jonathan Chait that reasonably suggested a GOP controlled House would most certainly try to impeach President Obama, regardless if the future offense merits such action or not.
But no one has advance this theory in recent days as much as Mr Schultz. Mark Finkelstein at the right-of-center Newsbusters writes:
I'm an official card-carrying member of the Vast Right-Wing Conspiracy, sitting in every morning on the super-secret nationwide conference call during which we receive our marching orders from the Forces of Evil. But unless I've missed something—and granted, maybe the extra-bold coffee doesn't always kick in—not once have I heard mention of a plan to impeach Pres. Obama.

So what does Ed Schultz know that I don't? He splattered his MSNBC show this evening with incessant dark speculation to the effect that the new Republican majority is plotting to impeach Pres. Obama.
Newsbuster's edited together a number of moments in which Schultz brings up the impeachment meme in the last day and a half, in what ends up making the MSNBC host look a tad quixotic. To quote the editors at Breitbart.tv, "Seriously, why would the Republicans want to impeach President Obama? He's energized the party better than anyone."
Have a tip we should know? tips@mediaite.com