MSNBC's Ed Schultz Slams Fox News For Publicizing Name Of SEAL Team 6 Member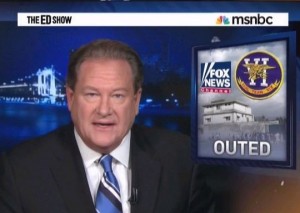 Ed Schultz tore into Fox News tonight for posting an article online revealing the identity of a Navy SEAL involved in the now-infamous raid that took out Osama bin Laden, who is releasing a book with a firsthand account of the mission. Schultz called out both the writer of the article in question and Fox News executive John Moody for his "un-American response" to the controversy over the article.
RELATED: Fox News Outs Member Of Navy SEAL Team 6 That Killed Osama Bin Laden
Schultz claimed that "because of Fox News, [the author] remained anonymous for exactly one day." He said that MSNBC would not be publicizing the author's real identity, citing an NBC News report from earlier today saying that users on several different Islamic websites connected to al-Qaeda have been publicly posting death threats against the author and even calling for his "destruction sooner rather than later."
In particular, Schultz called out FoxNews.com writer Justin Fishel for publicizing the SEAL's real name in his article, especially considering that last year, less than two weeks after the raid on bin Laden's Pakistani compound, Fishel ran a story titled "Navy SEALs Want to Protect Their Identity Following UBL Kill."
Schultz then brought up the response provided by Fox News executive vice president and executive editor John Moody.
"Once you write a book, anonymously or not, you have no reasonable expectation of privacy."
Schultz blasted Moody's statement as "the most un-American response I think that you can ever get."
Watch the video below, courtesy of MSNBC:
—–
Follow Josh Feldman on Twitter: @feldmaniac
Have a tip we should know? tips@mediaite.com
Josh Feldman - Senior Editor