MSNBC's Election A-Team: 'Nothing More Uncomfortable For Santorum Than Being In A Three-Way'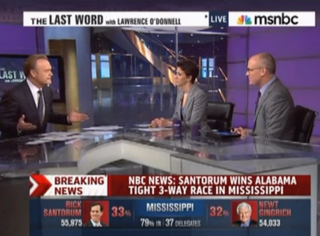 Did you click over onto MSNBC tonight hoping for some election statistics in analysis as the news rolled in that Alabama and Mississippi would both be official Santorum states? You might've gotten a bit more than you bargained for on The Last Word, where the Election Night coverage involved Lawrence O'Donnell inability to resist "three-way" jokes and a debate on whether Mitt Romney was, in fact, hotter than Newt Gingrich.
RELATED: Rick Santorum Wins Alabama, Mississippi Primaries
O'Donnell began asking John Heilemann how news networks "can we declare the largest vote-getter in a three-way a winner?" Heilemann began to answer, but stopped to acknowledge the "triple-entendres going on" with O'Donnell's question. "I don't know what's going on," he joked to Rachel Maddow, while Heilemann responded, "nothing that is more uncomfortable for Rick Santorum than being in a three-way." "With two very handsome men!" Maddow joked, which then turned into a conversation on who is the handsomest of them all (O'Donnell interjected that it was, in fact, Romney, which Maddow thought was up for debate but ceded, "I'm no expert, sorry").
If Santorum's reaction to the whole "Google" thing is any indication, he won't be too happy to know he can't even watch cable news coverage of himself with his kids without them having to hear a gay sex joke (gay by design, because women in the highest level of politics are still few and far between). The jokes– particularly Maddow chiming in with "I'm no expert" on handsome men– are on their face completely hilarious– and challenging their appropriateness will inspire an inevitable chorus demanding one "lighten up," but they nonetheless raise a serious question: would this sort of joking around seem as merry and not-creepy if they were talking about Sarah Palin or Hillary Clinton? Is the fact that all the people being objectified and mocked here are men what makes it passable as comedy for major cable news anchors and analysts (Heilemann, of course, co-wrote the definitive 2008 tome Game Change) and, if so, is that acceptable at such high levels of broadcasting? It isn't a stretch to imagine that the feminist outrage would be through the roof should the shoe be on the other foot– if Sean Hannity, Bill O'Reilly, and Greta Van Susteren were sitting around making threesome jokes about Democratic women. It isn't a stretch to imagine no one will care or question O'Donnell's behavior here. But that double standard is worth noting and analyzing in today's media, especially in light of what should be acceptable going forward.
The segment via MSNBC below:

Have a tip we should know? [email protected]