MSNBC's Goldie Taylor: 'Bozo Caucus' GOP 'Fanning the Flames of Hatred and Bigotry'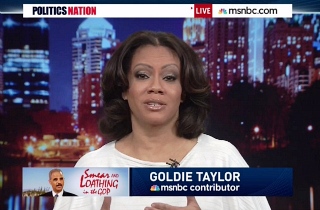 Thursday evening on MSNBC's PoliticsNation, contributor Goldie Taylor suggested that Republicans calling for the impeachment of Attorney General Eric Holder are members of a "Bozo caucus" interested in "fanning the flames of hatred and bigotry."
A group of House Republicans announced earlier this week that they'd formally introduce articles of impeachment against Holder in an attempt to remove the nation's top law enforcement officer from office. On MSNBC last night, host Al Sharpton asked his guest whether there are racial motivations behind the plan.
"Is this obsession with Attorney General Holder based on the fact that he stands for laws that they want to see overturned and in many cases never wanted to see in the books?" he asked. "Because to attack him is to attack President Obama and there's some racial elements involved in this, Goldie?
Taylor responded that she believes these House Republicans are attacking Holder "because of his proximity to the president." She noted that "they both happen to be African-American as well," but suggested it "goes even further" than that: "This is about codifying or putting their crazy down into a document so they can feed it back to their base," she said.
With such documented impeachment records, those GOP members can "raise money" on the fact that they "took on Eric Holder" over a variety of issues, Taylor continued.
"So what this is about is about fanning the flames of hatred and bigotry and pushing people to the polls on their behalf," Taylor concluded. "And so the problem with that is it keeps your base incredibly small. And so the necessity of reaching out and broadening that base in order to win national elections, that gets lost in the mush. But I'm not sure that any of the people that belong to what I call the 'Bozo caucus,' I'm not sure they really care about that."
Watch below, via MSNBC:

[h/t NewsBusters]
— —
>> Follow Andrew Kirell (@AndrewKirell) on Twitter
Have a tip we should know? tips@mediaite.com