MSNBC Host Blasts Erickson: 'Conservative Policies' Favor White Middle Class, Force Poor 'Mother Of Color' To Work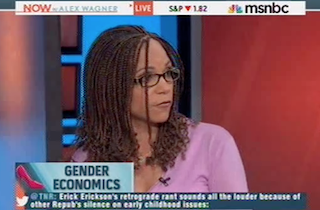 On Friday's edition of Now, Alex Wagner's panel tackled the recent Fox panel discussion about more women becoming primary breadwinners. The same discussion during which Erick Erickson uttered his controversial remark about the science of men dominating women. Melissa Harris-Perry didn't take well to this, charging that "conservative policies" are what force many poor, single mothers to work.
As the guests spoke about the economic necessity that has brought many women into the workplace, Harris-Perry weighed in, offering a contrast.
"We are talking about conservative policies that take single mothers who are are poor, and force them to work — period. And we have since the 1990s," she argued. "Ever since welfare reform, the notion that a mom staying at home with their children is good is only a notion that extends to middle-class, white mothers who are married."
She continued:
"If you are a poor mother of color, we don't think it's better for you to stay at home. We think that the moral requirement is for you to go out and work, and leave your infant child sometimes, alone or in a circumstance that is really quite difficult. So if we really believed it — like I would be down with this…if in fact it applied to everyone. And if in fact public policy was willing to underwrite the ability for poor women to be stay-at-home moms."
Bloomberg Businessweek's Joshua Green, too, felt the Fox panel misunderstood the policy aspect of the question, while Wagner noted such remarks then snowball into discussions about touchy topics like abortion — and ultimately hinder the GOP.
Watch below, via MSNBC:

Have a tip we should know? tips@mediaite.com