MSNBC's José Díaz-Balart: There's 'Hunger for Authenticity and Voices' on Cable News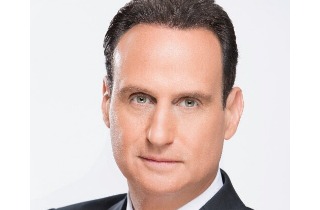 At a luncheon to formally introduce the new daytime MSNBC host, José Díaz-Balart addressed the challenge of widening the scope of cable news to include marginalized voices and narratives outside the DC-bent spectrum of political media.
Díaz-Balart, who splits his time between his MSNBC 10 a.m. hour and his longtime gig as an evening newscaster on Telemundo in Miami, made a name for himself on his very first broadcast when he live-translated an interview with Maria, an undocumented immigrant who came to the States after her brother was murdered in Honduras.
It was an auspicious start for Díaz-Balart, who finds nothing odd about bilingual television. "On Telemundo we do that all the time, and it doesn't cause much concern," he said, recalling times he live-translated Barack Obama speeches for his Telemundo audience.
Last week his MSNBC show sparked a social media trend, #IMBILINGUAL, something Díaz-Balart said indicated the breadth of the audience being missed by cable news. "It's embarrassing that there aren't more voices on the air," he said. "I long for the day when young women like Maria aren't seen as an aberration."
MSNBC president Phil Griffin praised Díaz-Balart's show as a model for MSNBC going forward. "This is change," he said. "And we've got to do it or else we're going to become irrelevant."
Not everyone's a fan. Ann Coulter savaged his interview with Maria, and Laura Ingraham derided his accented pronunciation of Spanish names. Mediaite asked whether Díaz-Balart thought such attention indicated previously marginalized voices were finally registering in the larger political discourse.
"I long ago stopped tying to figure out why people do things," Díaz-Balart said. "I'm not good at putting motive on why people do things, other than I was heartened by the number of people who thought that 'criticizing the notion of giving people voices' is bad."
Instead, Díaz-Balart saw in his show's response a "hunger for authenticity and voices," one that will come to have increasing importance as the 2016 presidential candidates realize the overwhelming importance of the Hispanic vote.
"I think immigration will be a bigger issue in 2016 than it was in the previous two presidential elections," he said. Díaz-Balart was heartened by the party conventions in 2012, one of which featured DREAMers on stage, the other Spanish-speaking governors and senators.
But while he criticized both Obama and the GOP House for a failure to pass comprehensive immigration reform, Díaz-Balart told the GOP especially to watch its statements on immigration. "If you have 'calves the size of melons,' that statement is going to come back into play later," he said, referring to a certain GOP lawmaker.
Díaz-Balart showed no signs of fatigue despite his dual roles, contrasting his sixteen hour days with the unrelenting struggle of recent immigrants. "That's a tough job," he said. "What I do is a privilege."
Watch Díaz-Balart's interview with Maria below, via MSNBC:
[Image via screengrab]
——
>> Follow Evan McMurry (@evanmcmurry) on Twitter
Have a tip we should know? tips@mediaite.com