MSNBC's Joy-Ann Reid Nails It: GOP's Outreach To African-Americans Both Condescending And Ineffectual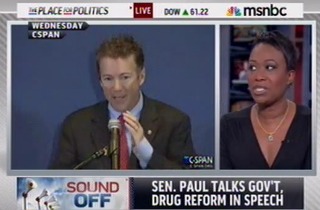 On Thursday, humanity edged slightly closer to the end times when I found myself in complete agreement with MSNBC contributor Joy-Ann Reid. In a segment with anchor Thomas Roberts, Reid criticized Sen. Rand Paul's (R-KY) address to African-American students at Howard University. She was critical, not of his effort, but in the inherent condescension he displayed by reminding that room full of bright students that African-Americans traditionally voted Republican more than a half century ago. In fact, most black civil rights leaders prior to the mid-1960s considered themselves proud members of the GOP. Reid said that African-American voters are well aware of this but it is not a compelling case to support Republican politicians today. Furthermore, that tactic compounds the GOP's problem with minorities with the offensive implication that a history lesson is all that is required to win their support. Not only do I agree with this statement entirely, I made a similar case last night on Current TV.

RELATED: NY Times Columnist Charles Blow Completely Wrong: GOP Didn't Lose Black Vote, Democrats Won It
Reid began the segment by giving credit to Paul for appearing before a group of students at a university which traditionally views Republican politicians with suspicion. "The problem is," she continued, "you probably don't want to go to a historically black college and do a 20 minute lecture on black history."
"They already know the Republican party was the liberal party during the 19th century," Reid added. She said that Paul did not effectively address GOP policies that African-Americans view with hostility today, but merely lectured the students on the civil rights accomplishments of Republicans in the past.
"Republicans try to woo black voters with a history lesson, whereas if you look at the way they're trying to court Hispanic voters, they're trying to court them on policy," Reid added.
In an appearance on Current TV's The Young Turks on Wednesday night, I made a similar point — though with far less eloquence. Arguing that the GOP was the natural home of African Americans a century ago is not a productive way to attract black voters today. The final paragraph of a post today on the history of how the Democratic Party won the black vote explores the folly of the GOP's present outreach to black community in more detail.
Reid is correct: the GOP should consider carefully why they make a policy-focused case to Hispanic voters but fail to do the same with black voters. Ultimately, that introspection would redound to their benefit as the GOP commits to making serious inroads with the African-American community.
> >Follow Noah Rothman (@NoahCRothman) on Twitter
Have a tip we should know? tips@mediaite.com