MSNBC's Joy Reid: GOP Immigration Plan 'Sounds Like Indentured Servitude,' They Don't Want 'More Brown People'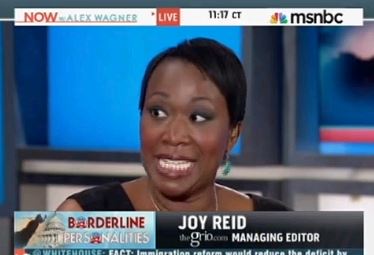 On Now with Alex Wagner, Wagner got into a heated argument with Republican congressman Raúl Labrador over the party's immigration platform and whether the GOP is doing a good job reaching out to minority voters. Wagner et al. clearly still believe they haven't, with panelist Joy Reid saying today that the Republicans' immigration plan "sounds like indentured servitude" and they just don't want more "brown people" in the United States.

Business Insider's Josh Barro said that the Republicans may end up going with an amendment proposed by Rand Paul that would cut a pathway to citizenship. Wagner remarked that it basically means illegal immigrants will have to pay taxes, but won't be able to vote.
RELATED: Maddow: Unless GOP Rejects Racists On Their Side, They'll Continue To Be Party Of 'Aggrieved White People'
Reid couldn't help but think this proposal bears too many similarities to indentured servitude.
"I mean, didn't we do this before? Wasn't this called indentured servitude, right? Where you come and you pay all this money out, you're not a citizen, but you're legally allowed to work on the farm? Like, this sounds like indentured servitude is what they want. Because, as Josh said, what Republicans are afraid of is they don't want to make these folks citizens because they don't think they'll vote for them… It's also a very ugly, sort of, ethnic argument that they don't want to add more brown people to the population of the United States."
Wagner added that if the whole point of immigration reform is to "make inroads with brown people," the idea of not-quite-citizenship may not do the trick. She also found it amazing that Republicans aren't even being subtle about opposing immigration reform because it may end up giving an electoral edge to the Democrats.
Watch the video below, courtesy of MSNBC:
h/t Daily Caller
—–
Follow Josh Feldman on Twitter: @feldmaniac
Have a tip we should know? [email protected]
Josh Feldman - Senior Editor