MSNBC's Joy Reid On Reporting Of Obama's Scandals: 'A Lot Of Reporters Aren't That Fond Of The President'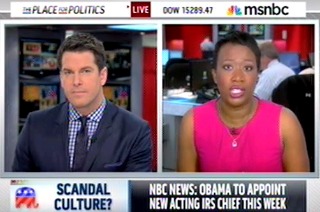 The Grio editor and MSNBC contributor Joy-Ann Reid told MSNBC anchor Thomas Roberts that the "scandal culture" in Washington, stoked by the political right, plays into a narrative that the press is amenable to reporting. She added that many Beltway reporters "aren't that fond" of President Barack Obama, and they are happy to report on his many scandals in spite of the dubious merits of each controversy.

In a discussion about the House's effort to cast another vote seeking the repeal of the Affordable Care Act which evolved into a discussion of the three simultaneous scandals plaguing the White House, Reid said that the political press was succumbing to a "scandal culture" stoked by the right-wing.
RELATED: Defending the IRS: MSNBC's Support Of Obama, Once An Asset, Now Puts Network In A Losing Position
"The right has been very focused on remaining their base over, and over, and over, that really what they're in Washington to do is get at Barack Obama," Reid said.
Reid added that the "scandal obsession" that is dominating politics in Washington this week is misplaced. "The tea party were only one third of the people that were targeted by the IRS," Reid said.
She added that progressive groups also had their 501(c)(4) status requests stalled or even denied, "which didn't happen to the tea party."
"They're able to convene this scandal culture in Washington," Reid said of the political right. She added that this plays into a narrative that the press is eager to report on.
"Let's face it: a lot of reporters in Washington are not that fond of the president – they don't have a close relationship," Reid added. "There are a lot of people on Capitol Hill in both parties that aren't that fond of the administration."
Watch the clip below via MSNBC:
> >Follow Noah Rothman (@NoahCRothman) on Twitter
Have a tip we should know? tips@mediaite.com