MSNBC's Joy Reid to Rand Paul: 'Take a Deep Breath Before You Talk About Race'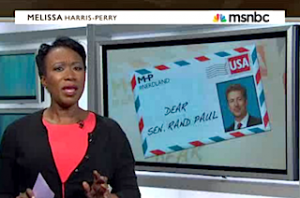 Filling in for Melissa Harris-Perry Saturday, MSNBC's Joy Reid delivered in open letter to Sen. Rand Paul (R-KY), admonishing the 2016 hopeful for his attempts to talk about race. "There are some people, who, for their own sake, should take a very deep breath before they talk about race," Reid said.
The impetus for Reid's letter were comments made this week by "the right's new poster child for awkward race talk" Paul about North Carolina's new voter restrictions. Paul reportedly told a Louisville-based NPR affiliate, "I don't think there is objective evidence that we're precluding African-Americans from voting any longer."
"I get that you're trying to be the man in the GOP who steps out there on race," Reid said, before laying out the "evidence" he said he could not find showing that "voter-ID laws preclude African Americans from voting." She quoted statistics showing that "up to 25% of African-American adults don't have a photo ID." And in relation to North Carolina's cutting down early voting by a full week, she noted that "70% of African Americans who voted in North Carolina last year voted early."
Moving on a case study from Florida, Reid reported a Dartmouth study, which "estimated that more than 200,000 people who wanted to vote didn't" in the 2012 election because of long lines, with African-American voters waiting twice as ling as white voters.
Reid even used Paul's words against him, quoting from the same speech in which he dismissed voter discrimination. Paul spoke out against the injustice pf "young people of color" losing their "voting rights because of a youthful mistake with drugs."
"Spoken like a guy who took a deep breath," Reid concluded, "and thought before he spoke."
Watch video below, via MSNBC:
[photo via screengrab]
—
>> Follow Matt Wilstein (@TheMattWilstein) on Twitter
Have a tip we should know? tips@mediaite.com