MSNBC's Karen Finney Sort Of Agrees With Fox News' Dana Perino On Domestic Violence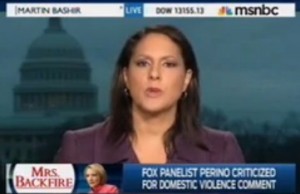 Earlier this past week, Fox News' The Five co-host Dana Perino drew considerable ire for remarking that women could avoid being "victims of violence all the time"  if they would "make better decisions."
In one of the more interesting cable news segments in recent memory, Friday afternoon's Martin Bashir show tackled Perino' s comment, but rather than feast on the low-hanging fruit of Fox-bashing outrage, MSNBC contributor and Democratic strategist Karen Finney made several good points, including some qualified agreement with Perino that "I would like to see us be able to empower women to make those kinds of choices."
On Wednesday's edition of The Five, during a discussion of the  controversy that erupted from Bob Costas' commentary on Jovan Belcher's murder of girlfriend Kasandra Perkins and subsequent suicide, co-host Dana Perino tried to steer the discussion around to violence against women, saying that the gun discussion "skirts the issue that women are victims of violence all the time."
To co-host Greg Gutfeld's suggestion that women should all carry guns, Perino replied, "Or make better decisions," a remark which smacked of victim-blaming. Had Perino offered more context, the reaction might have been different, but she chose not to, leaving many to conclude that she brought up violence against women for the sole purpose of blaming women for it.
Martin Bashir host Martin Bashir asked Democratic strategist and MSNBC contributor Karen Finney about the remark on Friday, and instead of piling on Perino, Finney observed that "obviously, I do not in any way shape, or form blame women, but the piece that I thought was interesting was that the panel itself kind of moved on from what was, I think, an important point she was making."
Finney referenced a similar discussion from MSNBC's The Cycle last week, in which S.E. Cupp suggested that guns are the "wrong problem" to talk about, and Steve Kornacki argued that it' s possible to discuss gun culture and domestic violence, that it's not an either/or choice.
"I think actually I heard S.E. make some of the same points earlier this week on The Cycle," Finney said. "We went right to the gun control issue, and I think there are very serious issues about women and domestic violence," including, she pointed out, the currently languishing re-authorization of the Violence Against Women Act, which has been weakened by the Republican-controlled House of Representatives.
Regarding Perino's comment, Finney said "I would have a slightly different take on what she was saying, and that is I would like to see us find more ways to empower young women, we know domestic violence among young women is going up, to make better choices. To recognize bad patterns of behavior from the men they're involved with, or the women they're involved with frankly, because this isn't just a heterosexual problem. To be able to make better decisions and say 'This behavior is dangerous and I need to love myself enough to walk away from this.' I would like to see us be able to empower women to make those kinds of choices."
I agreed with Kornacki that it's a false choice to say that guns and domestic violence can't both be important topics of discussion to derive from this story, but as the rest of Bashir's segment seemed to prove, that's easier said than done. Bashir discussed the politics of the Violence Against Women Act with panelist Michelle Cottle, but when he tossed to Touré, the Cycle co-host pivoted back to guns. In an unfortunate choice of words, he said, of S.E. Cupp's commentary, "I had to live through somebody saying that it was not the gun that hurt Jovan Belcher's girlfriend, but it was domestic violence. Guns escalate anger and escalate situations. They are the most efficient killing machines we have. Yes, there are other things that we use to kill, but Bob Costas, and for once Jason Whitlock, was absolutely right to say allowing this gun culture is problematic for all of us."
Finney agreed, but reminded Touré, "Let's not disconnect that from this issue of domestic violence and assault on women, and the Republicans in Congress who essentially are sending a message that says it's okay to beat up certain kinds of women. Native american women, women who are in this country illegally. They don't like some of the particulars in this legislation that addresses real problems. Touré, as I have heard you talk about this earlier this week, I agree with the gun control piece, but I think we do a disservice to our culture and our society when we don't see that all of this is connected."
Touré's impulse is understandable, because it does seem as though any division in focus will be taken as an opportunity to ignore the problems that handguns present, but Finney is absolutely correct to insist that we do the hard work of doing what is right, of taking the full measure of tragic events like these, and learning all we can from them.
Here's the clip. from MSNBC's Martin Bashir show:

Follow Tommy Christopher (@TommyXtopher) on Twitter.
Have a tip we should know? tips@mediaite.com