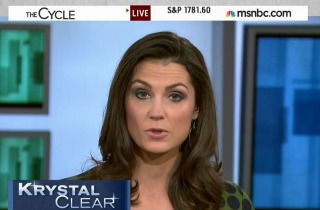 On Tuesday, MSNBC host Krystal Ball devoted a portion of The Cycle to advocating for the establishment of a national minimum guaranteed income. She insisted that research shows such a program does not create disincentives to work and could "eliminate poverty" with merely the stroke of a pen.
Ball began by highlighting protest movements around the world advocating "for what sounds like a radical idea: Guaranteeing every citizen a monthly minimum income, or what some supporters call a 'mincome.'"

RELATED: Scott Walker Reportedly Considers Eliminating Wisconsin State Income Tax
She said that the gravity of the issue of income inequality in the United States has prompted American lawmakers to consider a similar proposal.
"The basic concept is simple," she continued. "Every non-incarcerated adult citizen gets a monthly check from the government. Other safety net programs are jettisoned to pay, and poverty is eliminated."
Ball said that, while the idea is popular on the far left, it also has supporters on the right including "libertarian" Reason columnist Matthew Feeney who advocated for writing checks to welfare recipients.
She continued by citing a study which focused on a "small Canadian town" in the 1970s where a "mincome" was instituted and found that, "not only was poverty eliminated, but the disincentives to work has a minimal effect on productivity.
"We tend to think of poverty, homelessness, despair as inevitable but mincome makes you realize — in a country as rich as ours — we allow those outcomes as a choice," Ball concluded. "We could decide to eliminate poverty and it wouldn't even take a Christmas miracle to do it."
Watch the clip below via MSNBC:
Visit NBCNews.com for breaking news, world news, and news about the economy
[Photo via screen grab ]
— —
> >Follow Noah Rothman (@NoahCRothman) on Twitter
Have a tip we should know? tips@mediaite.com