MSNBC's Luke Russert Grills Evangelical Leader Tony Perkins Over His Defense Of DOMA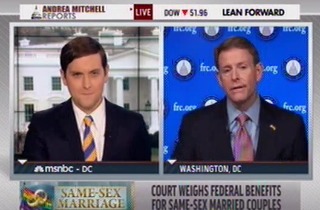 NBC News reporter Luke Russert engaged in a thorough grilling of Family Research Council President Tony Perkins on Wednesday over his defense of the Defense of Marriage Act. On several occasions, Russert put Perkin's on the defense and challenged the assertions he made to justify DOMA's constitutionality. The interview became heated and somewhat hostile when Perkins asked how, if love is the only boundary for marriage, America would be able to prohibit polygamy.

RELATED: Matthews And Christian Conservative Agree: Optimal When SCOTUS Doesn't Intervene In Social Issues
Perkins defended the constitutionality of DOMA and dismissed the divergent laws regulating gay marriage around the nation as not being particularly problematic. He then claimed that studies show that children fare better when they are raised in a two-parent household with parents of the opposite gender. Russert challenged that assertion:
"There are studies also, especially from the American Academy of Pediatrics, which say that a two-person home, even if it is a same-sex couple, is beneficial for children," Russert contended.
Crosstalk ensued as Perkins attempted to refute Russet's contention. He said that the study Russert cited ignores other research into that topic. Russert fired back that the study Perkins' cites was dismissed because of the wording of some questions and its having been funded by conservative backers.
"What do you fear the most about a couple being together – a same-sex couple being together over 60 years like we saw in the Windsor case – what do you fear so much about them getting the same federal benefits for their marriage as an opposite-sex couple would?" Russert asked.
"I don't fear anything," Perkins replied.
"Then why do you oppose," Russert interjected.
"If love becomes a definition of what the boundaries of marriage are, how do we define that going forward?" Perkins asked. He asked, hypothetically, how America would prohibit an individual with multiple spouses from immigrating to the country given that definition of marriage.
"So you equate homosexuality with polygamy?" Russert asked.
"No," Perkins replied.
"Well, you just said that, sir," Russert fired back.
Watch the clip below via MSNBC:
> >Follow Noah Rothman (@NoahCRothman) on Twitter
Have a tip we should know? tips@mediaite.com