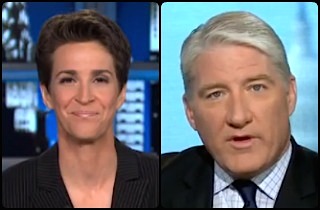 Sen. Rand Paul (R-KY) has been making a point this week of celebrating the 50th anniversary of the landmark Civil Rights Act of 1964, in the process championing his own efforts to fight racial prejudice and discrimination. But given some statements he's made in the past, both MSNBC's Rachel Maddow last night and CNN's John King this morning, drew attention to the inherent contradictions between what Paul was saying a few years ago and what he's saying now.
In a statement on his website Tuesday, Paul wrote, "It is simply unimaginable to think what modern America would be like if not for the brave men and women who stood up for the rights of all Americans." During the final segment of her show Wednesday night, Maddow latched on to those words.
In that 2010 appearance on MSNBC, Paul said he would have tried to "modify" the section of Civil Rights Act relating to private institutions had he been around during that era. He said he was not entirely comfortable with the idea of the government preventing restaurants, as an example, from banning black people.
"Today he says, 'It is simply unimaginable to think what modern America would be like if not for' that law to which he used to admit he was opposed," Maddow said, in reference to an interview she conducted with then candidate Paul back in 2010. "Now he's its biggest champion. The word 'unimaginable' is exactly the right word here."
Watch video below, via MSNBC:
CNN's John King picked up where Maddow left off this morning on Inside Politics, this time focusing on piece of video from Wednesday of Paul speaking to constituents in his home state of Kentucky. "I think you'll find no one in Congress doing more for minority rights than me right now, Republican or Democrat," Paul said.
To some degree, King gave Paul the benefit of the doubt, noting that he has spoken about reaching out to minority groups more than many of his GOP colleagues have. But, speaking on behalf of Democrats, King asked, "How does this new Rand Paul mesh with [the old] Rand Paul?"
From there, King played another clip from 2010, in which Paul said, "I think it's a bad business decision to ever exclude anyone from your restaurant, but at the same time, I do believe in private ownership."
King's guests, The Atlantic's Molly Ball and POLITICO's Maggie Haberman, both agreed that these contradictions demonstrate what a difficult line Paul would need to walk were he to run for president in 2016, portraying himself as a libertarian-leaning Republican while also trying to appeal to traditionally liberal voters.
"His statement about being the only person in Congress right now doing as much for minority rights is maybe a bit of an overstatement," Haberman said, "but he certainly is the only person you're seeing on the Republican side who is doing this much of an effort."
Watch video below, via CNN:
[Photo via screengrab]
— —
>> Follow Matt Wilstein (@TheMattWilstein) on Twitter
Have a tip we should know? [email protected]